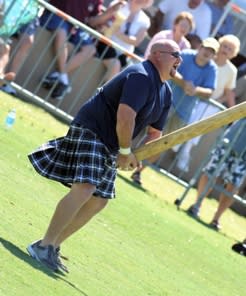 MEDIA CONTACT:
S. Scott Powers
Columbia Regional Sports Council
803.545.0009
spowers@columbiasportscouncil.com

Cayce, S.C. - (March 29, 2011) - Paul Gleeson, Atlanta's Consul General of Ireland, will be the honored guest of the Tartan Day South Highland Games and Celtic Festival this weekend, April 1-2, 2011 . The festival will also host "The Order of the Flaming Caber," a new twist to a competition thousands of years old. The event will bring Highland Games to Columbia for the first time on April 2 from 10:00 a.m. to 8:00 p.m. at the Historic Columbia Speedway , 2001 Charleston Highway in Cayce. The games are only a part of a much larger Celtic Celebration labeled Tartan Day South. The celebration will include nine hours of live music, Celtic dancing, pipe bands, herding and falconry demonstrations, British car and motorcycle show, storytellers, artisans and much more. Admission is $10 for adults and ages 5 to 13 are $5.

Mr. Gleeson was named Ireland's first Consul General in Atlanta by Irish Taoiseach (Prime Minister) Brian Cowen in July 2010. Mr Gleeson has served Ireland in South Africa, also as the Permanent Representation of Ireland to the European Union in Brussels; and at Ireland's Mission to the Organisation for Economic Cooperation and Development (OECD) in Paris.

The event will introduce "The Order of the Flaming Caber." In the Caber Toss, competitors toss and flip a tree trunk measuring over 18 feet weighing between 120 and 140 pounds. At the conclusion of the competitions on Saturday, the caber will be set a blaze for this a very special demonstration.

"The Speedway lends itself perfectly for handling an event of this nature. The nine acre grass infield provides the space necessary to hold multiple activities at the same time. The venue offers plenty of parking just moments from downtown and I-26." said Donavan Murray, president of Celtic Force Enterprises.

The festival will be full of cultural demonstrations like Bag Piping, Drumming, Irish Step, Scottish Country, and Highland Dancing. A "Bird of Prey" organization will demonstrate the art of Falconry while Border Collies show off their sheep herding prowess.  The Palmetto Fencers will perform swordsmanship demonstrations. Artist and storytellers will be on hand to truly give a full flavor of the Celtic experience. True to the speedway's heritage, cars of the British Isles will be on display.

If you do not own your own kilt, there will be a Celtic Marketplace with an array of unique products to take the experience home. A taste of the British Isles will be provided by Celtic vendors as well as standard American fare. There will be plenty of educational opportunities and play areas for the kids. They will even be given their time on the field in a mini-games, hands on activity at 2:00 pm.

Celtic Music will fill the air at the festival with live performances from at least eight bands. The line-up includes RATHKELTAIR, BARLEYJUICE, THE BLESSED BLEND, CUTTHROAT SHAMROCK, THISTLEDOWN TINKERS, DAVEY MORRISON, MARCILLE WALLIS, and Colm O'Brian & Sean Conner.

Clans and heritage organizations will be on hand to discuss their family's role in celtic history. This year's honored groups include The Ancient Order of Hibernians, Society of Scottish Armigers.

The featured charity, Celtic Heritage International Exchange Foundation, facilitates the exchange of young musicians and artist between the US and the Celtic nations. The 501C-3 non-profit organization is based in the upstate of South Carolina.

The parking is complimentary, and admission at the gate is $10 for adults, $5 for ages 5 to 12. There is no admission fee for children under 5.  For more information, visit tartandaysouth.com or contact John Banks at (803) 665-7620.

# # #
About the Historic Columbia Speedway
The Columbia Speedway, located at 2001 Charleston Highway in Cayce, has a deep-rooted history that includes some significant firsts. A young Richard Petty ran his first race there on July 12, 1958 in a 1957 Oldsmobile convertible. He won his first ever race there a year later on July 17, 1959. Columbia Speedway became the spot of the first NASCAR race to be held under the lights when the Grand National series made its first ever stop there on Saturday night June 16, 1951. That night Studebaker got its first and only NASCAR victory when "The Rebel" Frank Mundy got to the checkers first. Chevrolet got its first NASCAR victory at Columbia Speedway when Fonty Flock drove a 1955 Chevy to victory on March 16, 1955. Other first include Buck Baker's first Grand National victory on April 12, 1952 in a 1951 Hudson. Buddy Baker ran his first ever race at this historic track on April 4, 1959 in a 1958 Chevrolet. All the stars of the sport during that era raced at Columbia. Ralph Earnhardt, Lee Petty, Curtis Turner, Tiny Lund, David Pearson, Cotton Owens, Little Bud Moore, are only a few of the greats who came to race there.

About Columbia Regional Sports Council
The mission of the Columbia Regional Sports Council is to strengthen the area's economy by marketing and selling the Columbia, SC region (City of Columbia, Lexington County, Richland County) as a premier destination for sporting events, partnering with local sports organizations to grow and develop existing events, and by recruiting new events which provide an economic benefit to the region by generating room nights, food and beverage sales, and associated tax revenues.