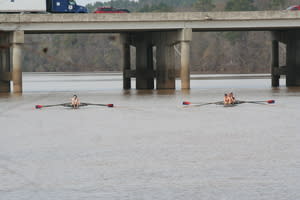 Columbia, S.C. - (March 15, 2011) - The Columbia Regional Sports Council is pleased to announce the arrival of Bucknell University and Vassar College to the Richland County Rowing Center for spring training. This is Bucknell's fourth trip to Columbia for training and the first ever trip for Vassar. Training for these teams is presently underway and will last until Saturday, March 19, 2011.



Both teams will enjoy three miles of unobstructed flat-water found on the Broad River. The Richland County Rowing Center, located at 1871 Omarest Drive, is the launching base for these training sessions.

Hosting teams of this nature generates and awareness of the Columbia, S.C. region and provides an economic impact upon the community. Commenting on the benefits of hosting the athletes and coaches, Executive Director for the Columbia Regional Sports Council, Scott Powers says, "This is valuable business for Columbia. This program continues to grow as more teams learn about the Broad River, the Richland County rowing facilities and the Columbia Rowing Club, which works hard to be the perfect host for these teams. We look forward to making a friendly and lasting impression on these and future crews."

For training schedules and to see these teams in action at the Richland County Rowing Center, please contact Columbia Rowing Club training coordinator, George Park at 803-429-2597.


# # #


About Columbia Regional Sports Council
The mission of the Columbia Regional Sports Council is to strengthen the area's economy by marketing and selling the Columbia, SC region (City of Columbia, Lexington County, Richland County) as a premier destination for sporting events, partnering with local sports organizations to grow and develop existing events, and by recruiting new events which provide an economic benefit to the region by generating room nights, food and beverage sales, and associated tax revenues.