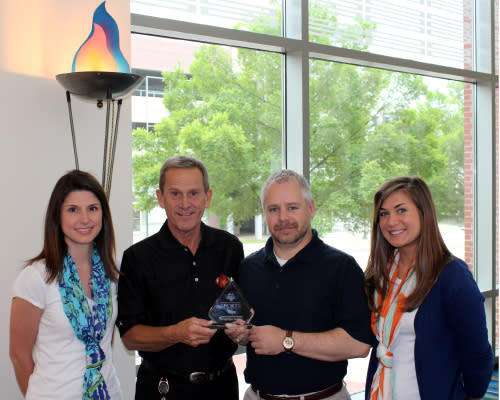 Columbia, S.C. (Friday, April 20, 2012) - Columbia Regional Sports Council (CRSC) has won the National Association of Sports Commissions (NASC) 2012 Outstanding Web Presence award for their website and overall social media outreach.
"This is a huge honor and we couldn't be more excited," said Scott Powers, executive director of Columbia Regional Sports Council. "I have been working with our marketing team on a regular basis to brainstorm new and innovative ways to build web presence, and to be recognized for our efforts is great."
The marketing team was able to leverage the tremendous social following of Columbia, SC to engage and provide useful, targeted information to potential sports events planners and drive event attendance by promoting sports events, resources, venues and teams in the Columbia region through various social networks in addition to their website. Columbia Regional Sports Council has a social presence on Blogger, Facebook, Twitter, YouTube, Flickr, Foursquare, Pinterest, Instagram, LinkedIn and Delicious.

"We are constantly looking for ways to incorporate new and relevant social media tools into the marketing we do for the sports council," said Mandi Engram, director of marketing. "This award is a reflection of the hard work the team put into providing information and connecting with sports event planners and visitors."
The NASC member awards program is an annual awards program that is designed to recognize the achievements of active members. The Outstanding Web Presence award is a new category this year designed to recognize the most outstanding sports council website, event websites and social media sites with an overall web strategy that clearly communicates the organization's mission, goals and objectives.
"We couldn't be happier to see our efforts come to fruition with this award," said Sarah Katherine Shearin, marketing associate. "It's fun to see people across the nation interacting with our sports council through the social media tools we created."
About National Association of Sports Commissions:
The National Association of Sports Commissions (NASC) connects people and ideas in the sports event industry. Founded in 1992, the NASC represents more than 550 organizations, including 300 cities within the sports event industry across the United States, Canada, and Puerto Rico, and more than 125 event owners. Our members include organizations that attract sporting events to their community, (i.e. sports commissions and convention and visitors bureaus), event owners, and vendors and suppliers to the sports event industry. The NASC is the primary network for communication and information sharing on all topics relating to the sports event industry.

About Columbia Regional Sports Council:
The mission of the Columbia Regional Sports Council is to strengthen the area's economy by marketing and selling the Columbia, SC region (City of Columbia, Lexington County, Richland County) as a premier destination for sporting events, partnering with local sports organizations to grow and develop existing events, and by recruiting new events which provide an economic benefit to the region by generating room nights, food and beverage sales, and associated tax revenues. Columbia Regional Sports Council is a division of the Midlands Authority for Conventions, Sports & Tourism. For more information, please visit columbiasportscouncil.com.
###