14 Days of Love in Columbia, SC
Friday, February 1, 2013 3:47 PM by Meredith Almond
Happy February! We love that there's a holiday dedicated to love birds, and in Columbia, SC, there's a lot to love. We've come up with 14 days of things to do with your Valentine in 'The New Romantic Hot Spot' -- but first, (gentlemen, take our advice) make your Valentine's Day reservation for the big night!

Here's your guide to spoiling your loved one over the next two weeks in the New Romantic Hot Spot:

February 1, 2013 - Art, Drink & Be Happy!
If you and your date share a love for live music, beer, art or bingo - make sure you're at the Columbia Museum of Art for Arts & Draughts. You'll can get a docent-led tour to explore the new Impressionism: From Monet to Matisse exhibit, team up for a scavenger hunt through the galleries and wear some silly accessories for a fun photo booth. Party starts at 7:00 pm.

February 2, 2013 - Capital City Saturday
Link arm in arm for a free, guided historic walk through the South Carolina State House. Take in the Capitol building's beautiful architecture, then continue your walk through the surrounding gardens or down Main Street. Read our State House tour blog for more information.

You can continue your date with a romantic dinner at The Oak Table, directly across the State House. Try the special "Poisonous Apple Martini" exclusive for Columbia City Ballet's weekend production of Snow White and receive a $3 off coupon for up to four tickets. Snow White shows are at 3:00 & 7:00 pm at the Koger Center for the Arts.

February 3, 2013 - Do you two have a (love for) history?
It's the first Sunday of the month, which means general admission to the South Carolina State Museum is only $1. A Sunday well-spent is one learning about South Carolina's history and progress throughout the years.

February 4, 2013 - Dinner and a movie, anyone?

February 5, 2013 - Sweets for your Sweetie! 
Cupcake is offering a special this Valentine's Day that comes in chocolate, vanilla or red velvet. Today, why don't you call to reserve your "sweetie" a heart cake? 803.212.4949.

February 6, 2013 - Love life looking a little...patchy? 
For the crafty couple. Historic Columbia Foundation offers guided house tours Columbia, SC historic sites. The Robert Mills House & Gardens is a beautiful backdrop for a romantic day, and the new Patchworks of History exhibit on display will help patch together a perfect day. The exhibit features five of the Foundation's fifty-two handmade works of art from the 1800's, creating a visually stunning display of textile work in the 19th century. After your tour, stop by the Museum Shop for some sweet Valentine's day gifts.

February 7, 2013 - Shop from the heart. 
Leave your date at home for this one. You might find the perfect Valentine's day surprise for them! The 5th Annual Art with A Heart fine arts & crafts sale at 701 Center for Contemporary Art. With only a week left to find the perfect Valentine's day gift, you're sure to find something in the mix of handmade jewelry, photography, paintings, pottery and more. Plus, the event benefits the Ronald McDonald House. 5:30 - 7:30.

February 8, 2013  - What does SHE want?
As an early Valentine's present, give her the ultimate girl's weekend at SHE Columbia in the Columbia Metropolitan Convention Center. A room filled with fashion, food, shopping...what more could a woman want?

February 9, 2013 - A Saturdate, so to speak.
My perfect Saturday date begins with a bike ride to Soda City Market and a leisurely breakfast of homemade donuts, or Rosso Trattoria breakfast quiche. But, the rest of this day is packed with events every type of couple will love:

February 10, 2013 - Love Boat.
Specifically for the couple who loves the outdoors! Grab a paddle and "Get Your Gear On" on this Valentine's Day canoe trip down one of Columbia, SC's three rivers. Trip leaves at 1:00pm, call 803.799.0999 to reserve your spots!

February 11, 2013 - Hugs & Kisses, in popcorn form.
Hugs & Kisses popcorn has arrived at Cromer's! This candy-coated and festively-colored popcorn will make a perfect addition as a sweet Valentine's day treat.

February 12, 2013 - Look dapper for your date! 
What better way to look dapper for your date than to dress up your outfit with a fine Columbia, SC accessory. For the guys - try on a bow tie from Britton's or Granger Owings and embrace the look of a true southern gent. Ladies, stop by LaRoque and pick up a new dress for Valentine's day to really make an impression.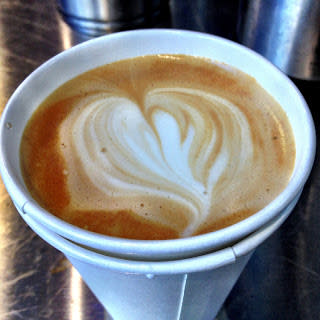 If you ask nicely, Drip On Main baristas will draw a little love on top of that latte.

February 13, 2013 - Want to get coffee some time?
If you haven't been to the new Drip On Main, a coffee date is the perfect excuse to give it a try. Drip's second location is just as awesome as its first and located on the up & coming Main Street. Spend some time with your date over a cup up slow-dripped espresso coffee. Browse other coffee shops in Columbia, SC.

February 14, 2013 - Happy Valentine's Day!
It's finally here, and today's the day to really show some love. Woo your boo, at Riverbanks Zoo with Love on the Wild Side. Spend a wildly romantic evening with a guided walk through the Zoo at 6:30 pm and ending with a 3-course meal. Reserve your spots by purchasing tickets online.

If you don't want to get so wild, head to the Columbia Museum of Art at 7:00 pm for a night of art and music at CMA Chamber Music on Main. World-renowned artistic director Edward Arron hosts a special concert featuring works by Stravinsky, Mozart, Haydn and Schubert. Reserve your spots by purchasing tickets online.

For the classic romantics, catch Valentine's in Casablanca. Grab a romantic dinner, then head to Harbison Theatre at Midlands Technical College for champagne, dessert and a viewing of one of the most loved classics, Casablanca. Did you see - Harbison Theatre is giving away a dinner and a movie date for Valentine's Day! Enter to win by Monday, Feb. 11.

Still need ideas to woo your Valentine? We've put together a list of Valentine's Day events, romantic restaurants, restaurant and hotel Valentine's specials, where to get sweet treats and flowers and more just for you. Or get more gift and date night inspiration for 'Romantic Hot Spots' from us on Pinterest.