33rd Annual Baker & Baker Art of Music Series at Columbia Museum of Art
Friday, September 16, 2011 11:37 AM by Kat Leitner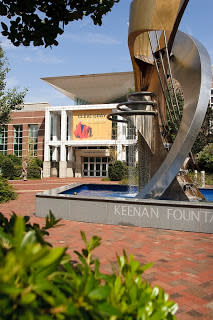 The Columbia Museum of Art announces the 33rd Baker & Baker Art of Music Series 2011-2012 featuring innovative programs that showcase a cross-exploration of art, music and cultural history hosted by adjunct curator of music, Peter Hoyt. The fall season begins Sunday, September 25 at 7:00 p.m. with an unusual duo celebrating classic swing music.  Tickets are $10 / $8 members and available in advance at columbiamuseum.org.

"The Art of Music series explores connections between the visual world and the sounds encountered in that world," Hoyt said. "Painters and musicians have always inspired each other, but the links between them have often been obscured by the passing of time. I'm looking forward to exploring these connections."

Hoyt creates dynamic musical programming relating to the art on view in the Museum galleries. Hoyt, who teaches music history at the University of South Carolina, specializes in the relationships between music and the arts. A specialist in the music of the late 18th century, Hoyt is a frequent speaker at the Mostly Mozart Festival at Lincoln Center in New York City.
The Art of Music Series aligns to the Museum's mission by connecting performances to the Museum's collection and exhibitions through these unique programs. The Baker & Baker Foundation, established by longtime museum supporters the late Lee J. Baker and David Baker, has sponsored the Baker & Baker Concert Series since 1986. The Museum is grateful for the Baker family's continuing sponsorship of this program.
An Evening of Classic, Swinging American Music
Sunday, September 25 | 7:00 pm 
Enjoy classic swing music in an unusual duo (two guitars and vocals) as Phil Flanigan and Hanna Richardson bring new sparkle to vintage material. Phil, a veteran of Benny Goodman's band, provides bass lines on the 6-string guitar and evokes the great Charlie Christian in his guitar solos. Hanna plays flawless time on the tenor guitar and sings with warmth, verve and wit. Hanna's approach to a song is warm and cool - warm of timbre, cool, casual and relaxed in delivery. They'll be performing classic, swinging American music from the great popular and jazz songwriters of the 1930s and 1940s. Together, they have the intimacy, delicacy, yet fullness of chamber music. And that indefinable thing called "swing."
Doors open at
6:00 pm.
Tickets $10/ $8 members.
The Art of Music: Allos Musica Trio
Tuesday, October 18  |  7:00 pm
" Though the Arabic influence is unmistakable, the music's emotional clarity and lyrical grace is universal." -Chicago Reader Critic's Choice
The Allos Musica Trio plays original compositions, expert improvisations and a hybrid of traditional and contemporary Arabic music. The trio has performed residencies and concerts throughout Chicago and the Midwest and was the Ensemble in Residence for the MOMENTA Dance Company in November 2010.
Doors open at 6:00 pm. 
Tickets $10/ $8 for members.
Experimental Percussion with Greg Stuart and Michael Pisaro
Tuesday, October 25  |  7:00 pm
" The American composer Michael Pisaro likes his music to develop as a slow-motion force, with adjustments of tone and pitch and instrumentation so long-brewing that you lose your awareness of the player's hand and the composer's will. He's into field recordings, sine waves and percussion, unusually played. Per Mr. Pisaro's instructions the percussionist Greg Stuart attacks metal by pinging, dropping, bowing - generally anything but playing with sticks or mallets." - The New York Times
Doors open at 6:00 pm.
Tickets $10/ $8 for members.
Lisztomania
Sunday, November 13  |  3:00 pm
Lisztomania features works by Franz Liszt to celebrating the 200th anniversary of his birth. Liszt's compositions for piano demonstrate remarkable ingenuity in terms of form, sonic landscapes, and technical requirements. This recital highlights a variety of his works, representing his Transcendental Etudes, Hungarian Rhapsodies, Années de pèlerinage (Years of Pilgrimage), and Schubert song transcriptions.Pianist and SC native, Ryan Smith regularly performs in a variety of settings, both as a solo and collaborative pianist. Over the past few years, he has appeared in recitals at the Palmetto Theatre, Piccolo Spoleto Festival, and Carnegie Hall, as well as many venues across the Southeast. His students have won awards at both the local and state level. Smith is completing his doctorate in Piano Performance at USC, where he coaches with Charles Fugo.
Free Admission.  

General Museum Information:The Columbia Museum of Art is South Carolina's premier international art museum and houses a world-class collection of European and American art. Founded in 1950, the Museum opened its new building on Main Street in 1998 with 25 galleries. The collection includes masterpieces of the Italian Renaissance, Baroque and Rococo from the Samuel H. Kress Collection, porcelain and works by significant furniture and silver makers, as well as American, Asian, and modern and contemporary art. 

Keep up with Columbia Museum of Art on Facebook and Twitter.