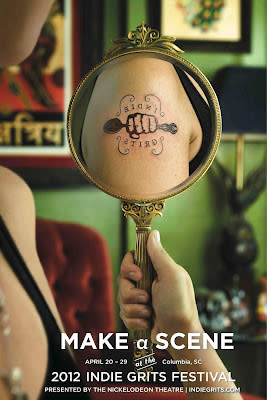 Did you spend your weekend kicking off Indie Grits? We did. It's only day five of the 11 day festival, and we're looking forward to the remaining six days of the 2012 Indie Grits Festival.

The kickoff party was the place to be on Thursday, and our president and CEO, Ric Luber, raved about the Indie Grits films he attended over the weekend. Check out our photos from 701 CCA Columbia Open Studios & Indie Grits Kickoff Party, and read what Ric had to say about the films:

"From pig head soup for the vegetarian to exorcising demons, the Sunday night presentation of the Dark Side Shorts, including Wiggle Room and 4 Horsemen of the Apocalypse, was entertaining and thought provoking. For a layman that has no creative ability, you have to marvel at the talent that was put forward in the films. More to come throughout the week- don't miss your chance to enjoy the experience."

Now in its sixth year, Indie Grits has grown to span 11 days of film coupled with several official festival partner events that present an array of cultural events that showcase progressive cultural life unmatched in the Southeast in South Carolina's capital city. Check out the abundance of events partnering with Indie Grits this year - such as Cinemovements by the South Carolina Philharmonic, craft. bar. happy. hour. at Columbia Museum of Art, cooking classes with chefs from Motor Supply Company and Rosso Trattoria, Crafty Feast at Indie Grits at Columbia Metropolitan Convention Center, and even more Indie Grits events.

For more information about other films, shorts and documentaries playing and a full list of partnering events, visit IndieGrits.com.

Stay up to date with Indie Grits on Facebook and Twitter, and follow 701 Center for Contemporary Art on Facebook and Twitter, too.