6 Famously Hot Holiday Recipes from Columbia SC Chefs
Thursday, December 11, 2014 12:00 PM by Alli Finkelston
Eat, drink and be merry! From our family to yours, here are a few scrumptious recipes created by some of Columbia, SC's premier restaurants and chefs. Whether you're a host or a guest this season, these tasty dishes are the perfect present for your famished family and friends.
Kick off the meal with a mouth-watering Rosemary-Thyme Roasted Leg of Lamb or a flavorful Mustard Balsamic Glazed Pit Ham paired with fresh Fall Harvest Salad. For a delectable dessert why not indulge in both Sweet Potato Spoonbread AND Bourbon Pecan Pie topped with Salted Caramel. Finally, enjoy a flavorsome nightcap with the seasonal Fall Leaves Cocktail. Yule slip into a jolly food coma after gobbling up these culinary treasures!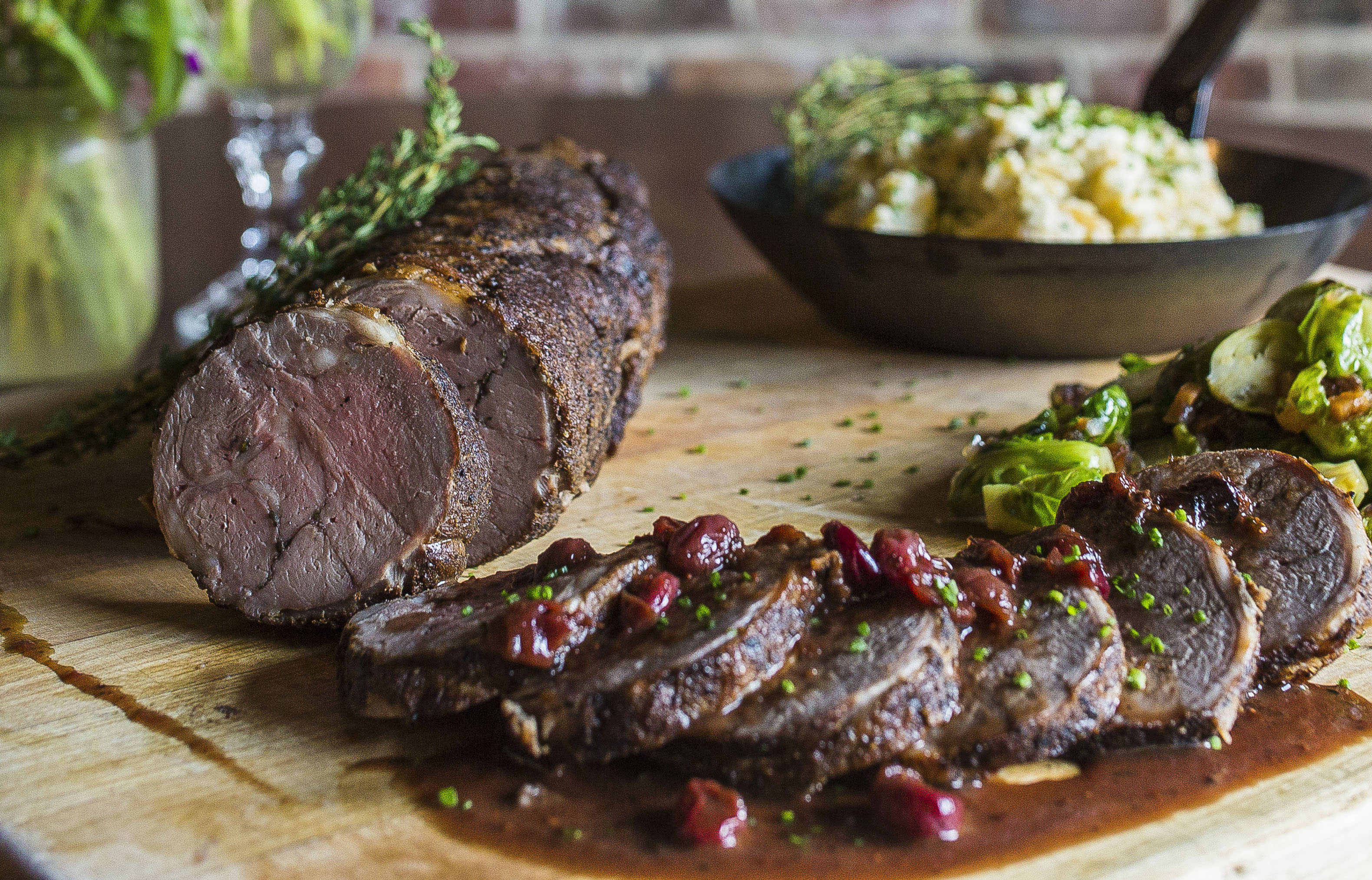 Rosemary-Thyme Roasted Leg of Lamb
From Wesley Fulmer of Motor Supply Co. Bistro
Ingredients
1 tied, boned leg of lamb (Ours is a St. Croix heritage breed lamb from Doko Farm in Blythewood, SC)
1 bunch fresh thyme, finely chopped
1 sprig fresh rosemary, finely chopped
1 cup fresh cranberries (frozen, thawed is fine)
Olive oil
Salt/pepper to taste
2 cups red wine
1 Tablespoon butter
Preparations
Preheat oven to 275 degrees. Rub the leg with olive oil and apply salt, pepper and half of the chopped herbs. In a large sauté pan on high heat, sear the lamb on all sides to golden-brown, being careful not to burn. Rub once more with olive oil and transfer to a roasting pan with a rack. Roast in the oven at 275 degrees for about 45 minutes to 1 hour until internal temperature reaches 135 degrees. Take out of oven and out of roasting pan to let rest for 30 minutes.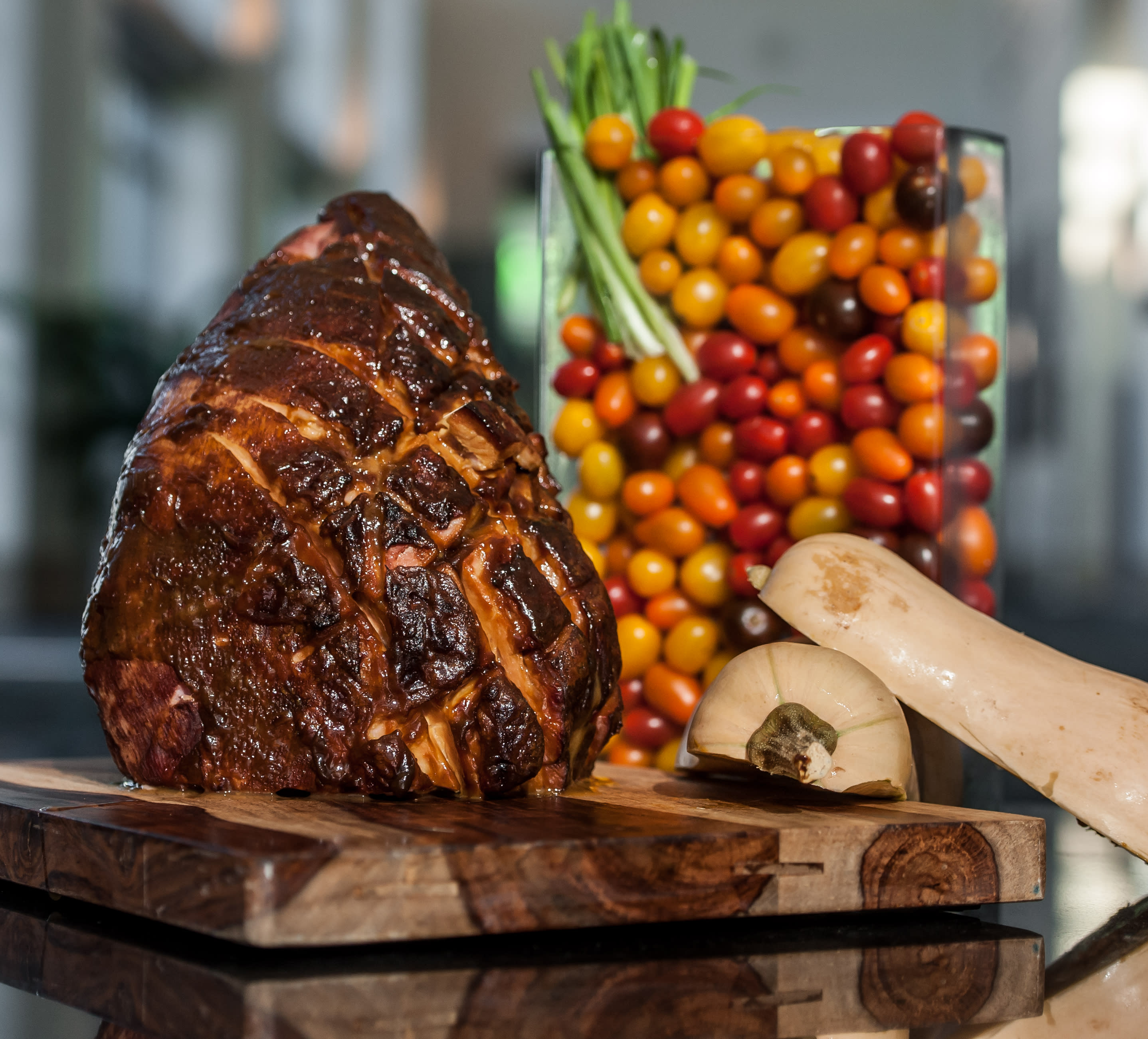 Mustard Balsamic Glazed Pit Ham
From Thomas E Kasperski II of Ovations at Columbia Metropolitan Convention Center
Ingredients
1 Cup Yellow Mustard
1.5 Cup Brown Sugar
1/2 Cup Honey
1/2 Cup Balsamic Syrup
1 Ham (pit style) 16-18lbs
Preparations
Heat mustard, brown sugar, honey, and balsamic syrup in a skillet and mix until all sugar is melted. Remove from heat. 
Take the ham and score it (slice into it about 1/4 inch across 3 times each way for a criss cross pattern) Place ham into a baking vessel and cover with aluminum foil. Bake at 300 degrees until the ham is cooked to 165 degrees. Take aluminum foil off and pour the mustard glaze over the top. Place glazed ham back in oven until the mustard is baked onto the ham (approximately 25 minutes).
Fall Harvest Salad
From Charley Scruggs of The Oak Table
This simple, raw salad is a great, light addition to a usually heavy dinner, can also be served as a slaw and celebrates the flavors of fresh fall veggies. Using different varieties apple can add additional flavors and textures.
Ingredients
4 apples; peeled, seeded and grated
1/2 butternut squash; peeled, seeded and grated
1 tablespoon fresh lemon juice
½ cup yogurt, full fat
1 tablespoon shallot, minced
2 tablespoons fresh dill, finely chopped
1 teaspoon fresh thyme, finely chopped
1/2 cup dried cranberries
1/2 cup candied pecans, chopped
sea salt and black pepper and extra virgin olive oil to taste
Preparations
Using either a hand grater or grater attachment on a food processor, grate apples and butternut squash and toss with lemon juice. Set aside.
Whisk together yogurt, shallot, dill, and thyme and season to taste with sea salt.
Toss yogurt mixture with apples and squash until lightly coated, then fold in cranberries and pecans.
To finish, season to taste with a bit more sea salt and freshly cracked pepper, and drizzle with olive oil.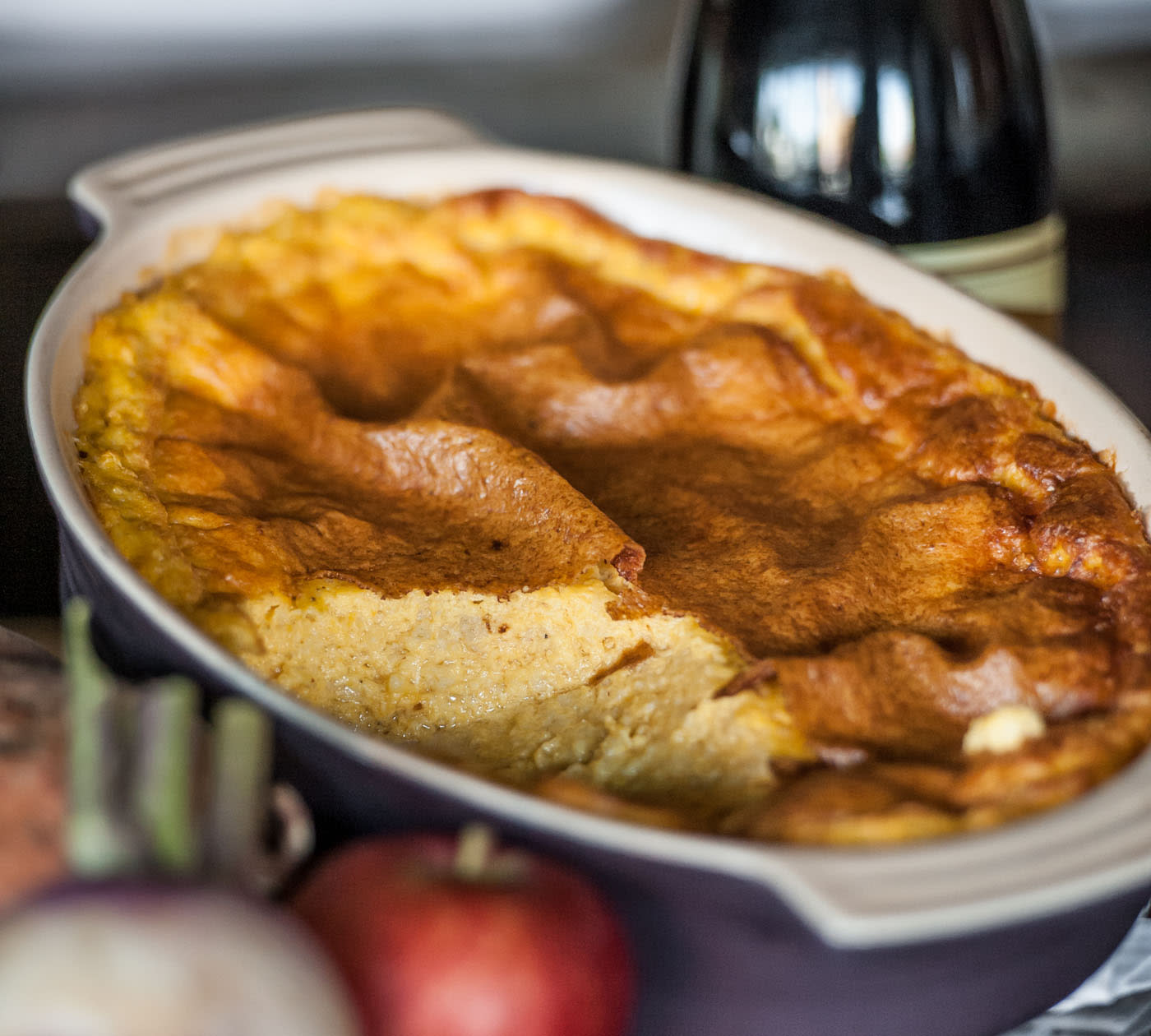 Sweet Potato Spoonbread
From Mike Davis of Terra
Roast 2 large sweet potatoes 30-45 minutes in 350 degree oven until soft. Once cooled, peel and mash with fork until mashed potato consistency. Reserve.
Ingredients
3 cups water
1/2 cup heavy cream
1/2 cup half & half
8 tablespoon butter
1 cup self rising cornmeal
1/4 cup parmigiano
3/4 tsp white pepper
3 eggs
Crystal hot sauce to taste
Preparations
Bring water to simmer, add cornmeal, let cook for 5 minutes. At same time heat cream, half & half, and butter in separate pan. Heat until warm and butter is melted. Add dairy to cornmeal mix, stir to combine. Add parm, white pepper, salt to taste, and hot sauce to mixture. Whisk the three eggs in a bowl and add to mixture. With a whisk add the sweet potato to mixture, check seasoning and adjust. Rub 9 inch gratin dish with butter, add mixture. Bake in oven at 375 degrees for 20 to 25 minutes until set and lightly colored. If made ahead of time cover dish with foil and reheat at 300 degrees for 15 minutes. Enjoy!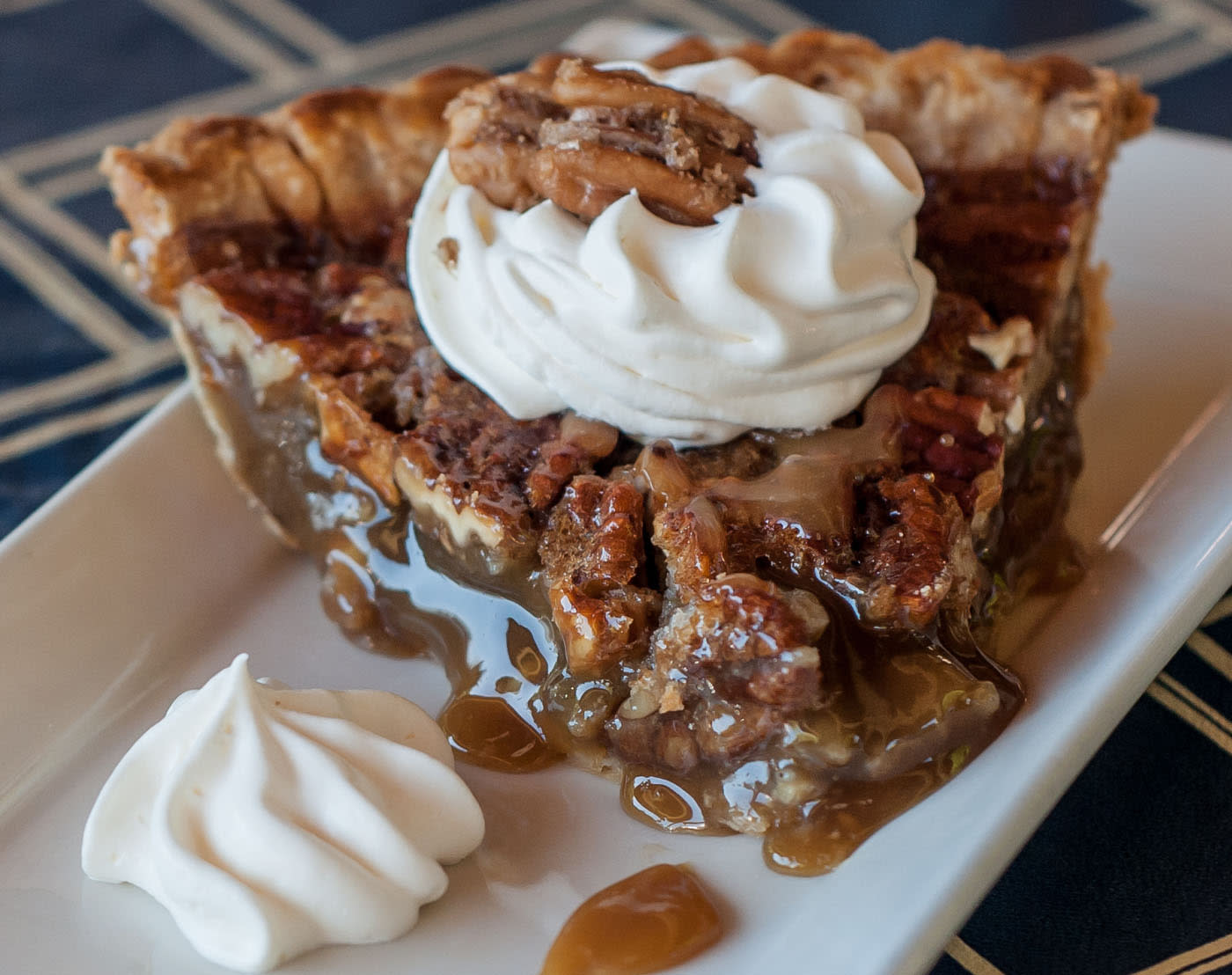 Bourbon Pecan Pie topped with Salted Caramel
From Maegan Horton of Blue Marlin
Dough:
1 ¼ cups of all purpose flour
2 teaspoon sugar
4 oz. cold butter, cubed
1 egg, beaten
Filling:
4 oz. butter
1 cup of light brown sugar
¾ cup of corn syrup
½ tsp. salt
2 cups of toasted pecans
1 to 2 tbsp. bourbon
2 teaspoon vanilla extract
3 eggs, beaten
Preparations (pie):
In medium bowl, whisk together flour, sugar and salt. Using your fingers work the butter into the dough until it looks like small beads, meal like. Then add the egg and stir the dough together (or if you have a food processor you can follow the same steps but in the machine). Form the dough into a ball/disk, wrap in plastic wrap and refrigerate for at least 1 hour. On a lightly floured surface, roll dough into a 12 in. circle about and 1/8 in. thick. Then, transfer the dough to a 9 in. pie pan. You can then form the edges to look like pie crust and place the pie pan in the freezer for 30 min. Heat your oven to 400 degrees. Place a piece of foil over the pie crust and fill with dried beans. This step is to ensure the crust won't rise during baking. Bake for about 20 min. While the crust is baking, make the filling. In a medium saucepan combine the butter, brown sugar, corn syrup and salt. Bring to a boil, stirring constantly and continue to boil for at least 1 min. Remove from the heat and stir in the pecans, bourbon and vanilla. Set the mixture aside to cool, then whisk the eggs into the filling until smooth. Pour the filling into the crust and bake for about 40 to 45 min.
Salted Caramel Topping
¾ cup sugar
1 tablespoon lemon juice
1/3 cup heavy cream
2 oz. butter
¼ salt
Preparations (topping):
Bring sugar, lemon juice and water to a boil in a sauce pan. Boil, swirling occasionally. After sugar begins to change color (about 8 min.), remove from heat. Add heavy cream and butter, stirring constantly until bubbling stops. Then, stir in salt and pour over your cool pecan pie.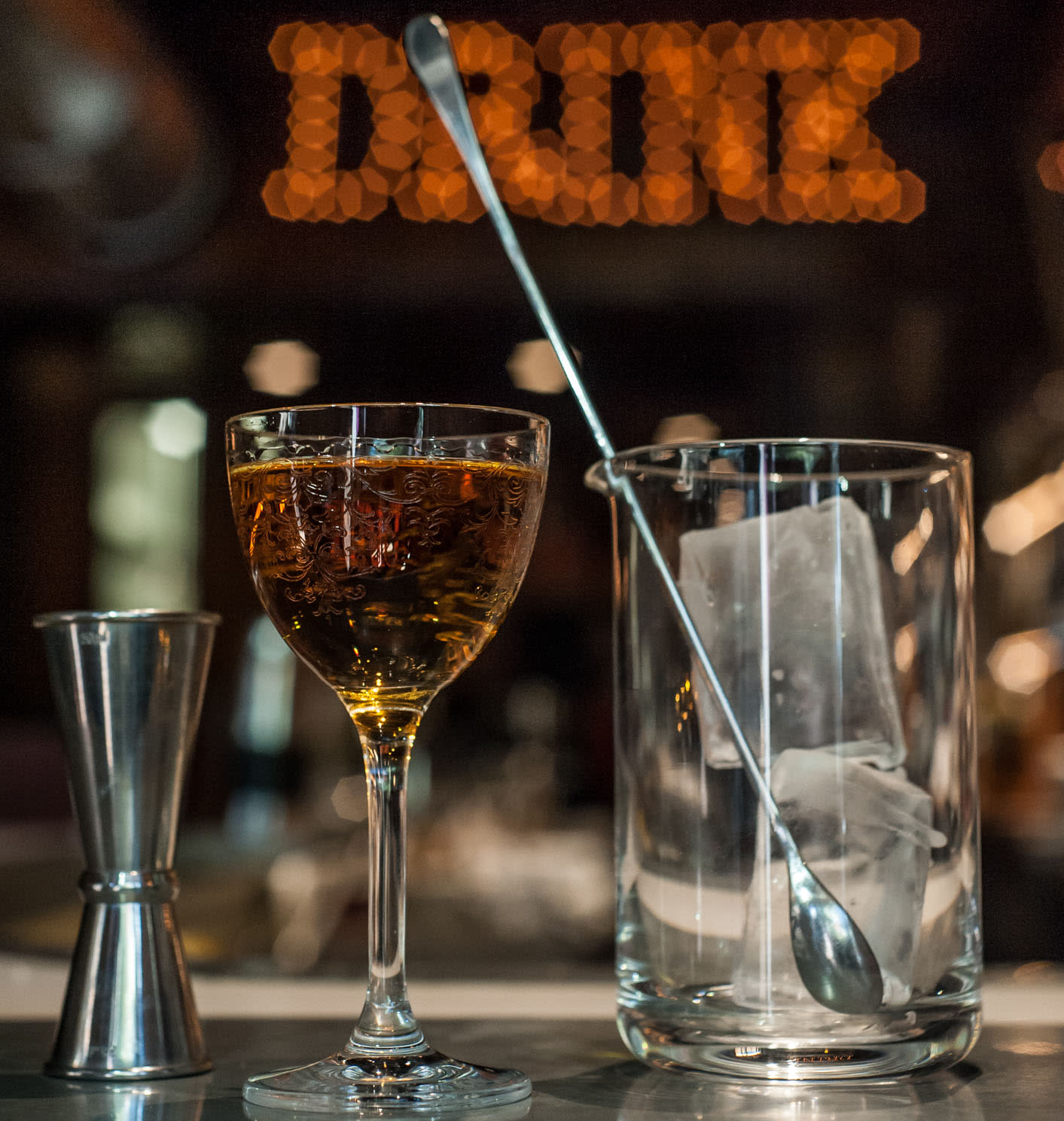 Fall Leaves Cocktail
From Kristian Niemi of Bourbon
Preparations
1.5 oz Knob Creek bourbon
1 oz Barenjaeger Honey-Pear Liqueur
1 oz Emilio Lustau "Emperatriz Eugenia" Oloroso Sherry
2 dashes Angostura Aromatic Bitters
Ingredients
Combine ingredients in mixing glass, add ice and stir for 30 seconds. Strain into a chilled cocktail coupe.
(Optional Garnish: Dehydrated pear slice)
Bon Appétit! Don't forget to check out our list of Holiday Events for everything happening in the New Holiday Hot Spot! Visiting family? Book your hotel room at reservations.columbiacvb.com.