Anything Southern
Tuesday, August 7, 2007 11:27 PM by Guest Blogger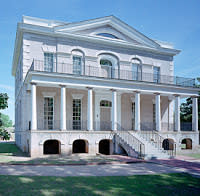 A few weeks ago my sister-in-law was visiting from Ohio. Since she had never been to
South Carolina
before and wanted to experience "anything Southern," we chose to visit a couple of
Historic Columbia Foundation
's house museums and gardens downtown. First we toured the
Hampton-Preston Mansion
(pictured right)
where we learned about the life>Robert Mills House and Gardens. Designed by Robert Mills, the first Federal architect who designed the Washington Monument, this house is not what you expect of Southern architecture. There is no grand central stairway. Instead you are impressed with the symmetry of design especially in the mirrored parlors.
These two houses are connected in an interesting way. Ainsley Hall and his wife were living in
the Hampton-Preston Mansion when Wade Hampton I offered to purchase the home at a price that Mr. Hall could not refuse. Since his wife did not want to give up her home, he then commissioned Robert Mills to build a 'bigger and better' house across the street. Unfortunately Ainsley Hall died before he moved his family into their new home and, due to a reversal of his finances; his wife never lived in the new home. The home was sold and became the Presbyterian Theological Seminary.
It was fun being part tour guide, part visitor and sharing some of Columbia's rich heritage!

Contributed by Barbara Chambers, partnership services manager.