Be a Tourist in Your Own Town This Week
Tuesday, May 8, 2012 2:46 PM by Meredith Almond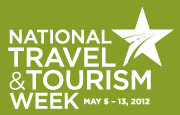 Whether you're a Columbia native or newbie,
National Tourism Week
gives both locals and travelers the chance to experience Columbia at its finest. Through
May 13
,
you can
"Be A Tourist in Your Own Town"
and explore Columbia with special offers,
discounts
, and free things to do and events.
Throughout the week, stop by the
Visitors Center
for ideas and ways to explore Columbia as we theme each day to spotlight the various things to do throughout the region.
Tuesday, May 8:
#TravelTuesday
For at least two decades, wearing red during NTW and on Travel Tuesday has been a signature that signaled unity among travel and tourism workers and supporters. Since we're home to the 
University of South Carolina
 and the South Carolina Gamecocks, we understand if you choose garnet instead of red.
Spotlight: History
Wednesday, May 9
Spotlight: Visual Arts
Visit some of the
public art
throughout the region or visit
art museums
and
galleries
.
Thursday, May 10
Spotlight: Military History
Visit one of our many
military museums
in the area to celebrate Columbia's rich military history. Make your way to
Fort Jackson
where some of our Visitors Center staff will be representing Columbia at the Fort Jackson Graduation.
Friday, May 11
Spotlight: Performing Arts and Theatre
Browse a list of
performing arts events
throughout the week.
If you aren't sure where to start in exploring Columbia, get more information at the 
Columbia Regional Visitors Center
 and pick up a "Top Free Things to Do" flier and see what free things you can do with the upcoming weekend. Plus, check in at the 
Visitors Center on Foursquare
to get $5 off a
Famously Hot
t-shirt! What better way to show your support for Columbia? Don't forget to shop around a little, as well. You never know what Columbia-made treasure you'll find!
 
Keep up with more Columbia happenings with Twitter and Facebook, or contact the Columbia Regional Visitors Center with any questions