"Birdies" have nested in the Visitors Center for the month of June!
Thursday, June 3, 2010 2:41 PM by Sarah Katherine Shearin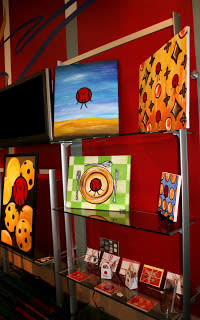 Another famously hot June is here in Columbia, SC. Flowers have bloomed and the birdies have flown in!

Columbia Regional Visitors Center has named Shayna Simoneaux 'Local Artist of the Month' for June. Shayna is the creative mind and artistic hand behind the 'Birdies' paintings, jewelry and gifts born in our famously hot city.

Shayna's Birdies are the reflection of her innate creativity and colorful, optimistic imagination of the world around us, including Columbia. She cultivated her love for art and fashion in London, where she was born, raised and spent many years pursuing her career in fashion and public relations. Following her relocation to Columbia, Shayna developed a distinct artistic. Birdie Paintings by Shayna collection. Inspire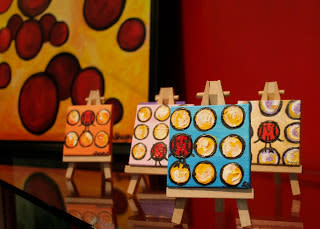 d to generate new avenues that ensure anyone could bring the spirit of the Birdie home with them led to founding "Birdies Jewelry & Gifts by Shayna," an affordable and accessible way to adopt a little Birdie. Each painting and piece of jewelry is one-of-a-kind, 100% handmade and, of course, includes original illustrations by Shayna.

Her vivid artwork shouts creativity, optimism and pure bliss. Each piece in the collection is marked with the returning inventive and abstract Birdie in varied atmospheres and themes.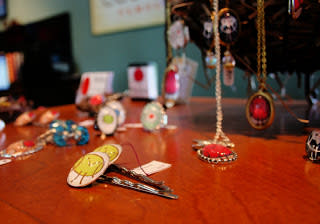 Come visit the Birdies' new nesting spot for all of June at the Columbia Regional Visitors Center located on the upper level of the Columbia Metropolitan Convention Center. Hurry before they fly home!

Address
Columbia Regional Visitors Center
(Located on the upper level of Convention Center)
1101 Lincoln Street, Columbia, SC 29201

Contact Us
Phone: 803-545-0002
Fax: 803-545-0050
Toll-Free: 800-264-4884
Email: visit@columbiacvb.com

Hours
Monday - Friday: 8:00am - 6:00pm
Saturday: 10:00am - 4:00pm
Sunday: 1:00pm - 5:00 pm