Boiled Peanuts: South Carolina's Official State Snack
Monday, July 18, 2011 7:37 PM by Mandi Engram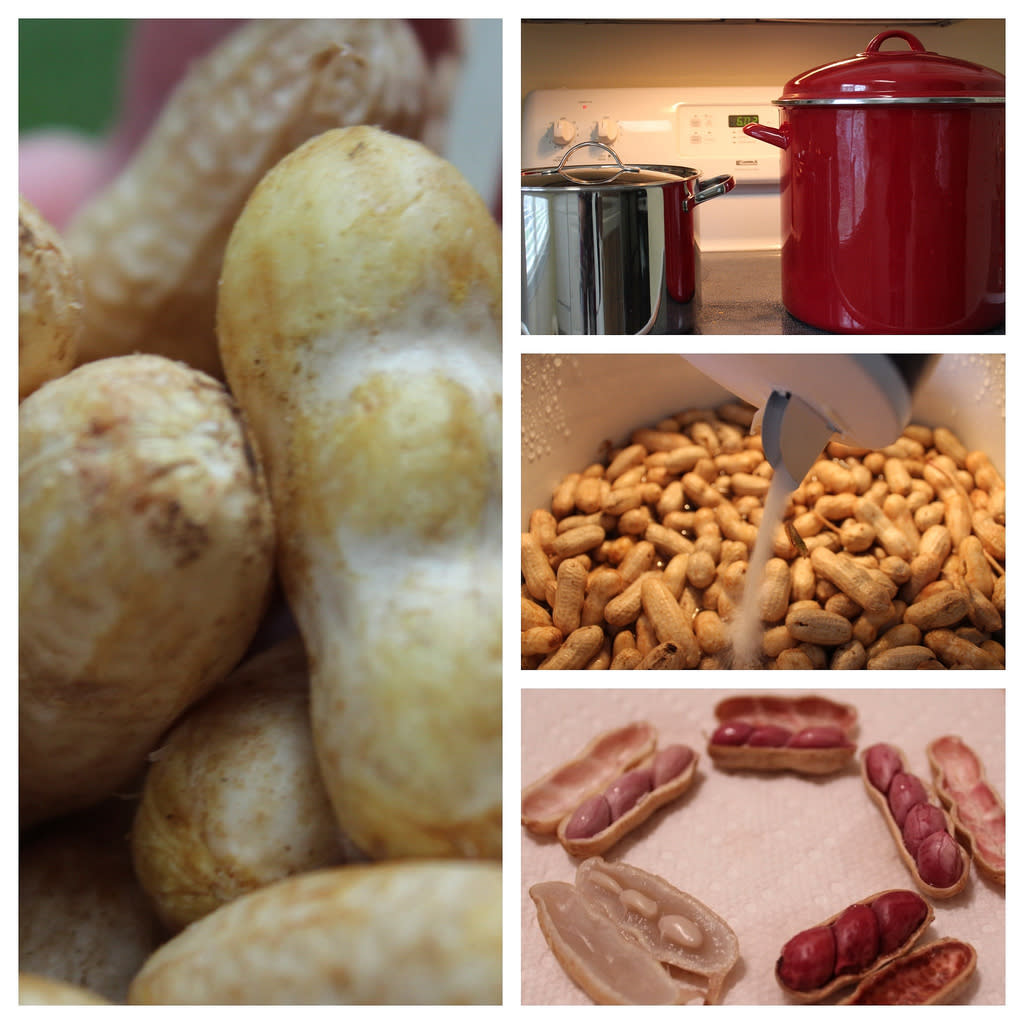 Those who know me well know that I have an addiction during the summer: boiled peanuts. By mid spring I'm usually checking the South Carolina State Farmers Market website to see when green peanut season will begin. Once it arrives, I make trips almost weekly to a local produce stand or grocery store to buy "new crop" boiled peanuts or green peanuts to boil my own.

If you're from South Carolina, you probably grew up snacking on boiled peanuts and drinking sweet tea. If you're not, you've probably wondered what you've been missing. Boiling peanuts may seem a bit strange if the only kind of peanut you've ever had is the crunchy kind. To me, they remind me a little of edamame or a slightly crunchy black eyed pea -- only better. It's one of those things you really just have to try yourself to understand.

So, why is the boiled peanut the official state snack of South Carolina? There's some history behind boiled peanuts. South Carolinians began boiling them in the 1800's, and they were designated as the official state snack in 2006. It is said that during times of war when soldiers were in need of nutrition with high protein and without cooking facilities, they boiled peanuts over campfires. They discovered that these peanuts would not spoil for several days.

Where to buy them in Columbia:
Here are a handful of spots I've found that have the real deal, new crop boiled peanuts or green peanuts to make your own. Key words: new crop. There is a difference in the new crop and the old ones. I'm kind of a peanut snob and will not eat them if they aren't new crop, unless I'm at a sporting event where that's all that's available. You can tell the difference in taste and color. The new crop are usually lighter in color on the inside and outside, easier to get out of the shell, and aren't slimy.

New crop, ready-to-eat boiled peanuts:
1. Wood Produce in Lexington
2. Wood Produce on Two Notch
3. South Carolina State Farmers Market
4. Barnyard Flea Market (Sometimes they also have the 'Big Whites' and 'Jumbos' - love these!)
5. Susie's Produce
6. Cromer's (These are darker, but they are still excellent. You can even order them online).

Green peanuts to boil your own:
1. Piggy Wiggly
2. Wood Produce in Lexington
3. Wood Produce on Two Notch
4. South Carolina State Farmers Market
5. Walmart (Occasionally they have them in the Certified SC produce section).
6. Other locations across South Carolina

How to make them:
They're pretty easy to make and pretty hard to screw up. If I can make them, anyone can. All you'll need is green peanuts, salt, a big pot with a lid, something to stir with, and a bowl to put them in. Some people like to add spices, beer, salt water, or salty meat like ham to season them.

1. Rinse the green peanuts.
2. Put them in a large pot with a lid.
3. Add salt. Start with less rather than more, then add as you cook. I sprinkle a handful or so to start. You don't want to ruin them and make them too salty to eat. Some people add up to a cup per gallon, but this is way too salty for my taste.
4. Add water. I add enough water to cover the peanuts by a few inches.
5. Put the lid on the pot, the stove on high, and set the timer for 30 minutes while they cook.
6. When the timer goes off, check the peanuts, stir and taste them. They should still be pretty crunchy (but I'll eat some anyway because I like them crunchy). Add a little more salt and water if necessary and set the timer for 30 more minutes. Reduce heat to medium to medium high.
7. Repeat step six.
8. They may be done by now, but cooking times can vary greatly depending on the size of the pot, maturity of the peanuts, and how soft you prefer them. If they're still too crunchy for your taste, set the timer and check and stir in 15 minute increments until they're done.
9. Spoon some out, put them in a bowl, and grab something to put the shells in. Enjoy!
10. Let the rest sit in the pot until they're cool or slightly warm. They'll absorb more of the salt water and continue to cook. Drain them, store them in a large bowl, and put a wet paper towel over them. This keeps them from drying out and tasting fresh when you refrigerate them. They'll be good for a few days to a week, depending on maturity.

What are your favorite spots to get fresh boiled peanuts or your favorite recipes? Leave a comment on this post and let us know!