Celebrate National Trails Day in Columbia SC: June 1, 2013
Wednesday, May 29, 2013 11:00 AM by Meredith Almond
This 
Saturday, June 1, 2013
 is 
National Trails Day
, and there are plenty of opportunities to spend your weekend 
outdoors in Columbia
. In fact, to us, National Trails Day is simply the perfect excuse to enjoy the warm and get outdoors! Join us in celebrating by hiking, biking, and exploring trails throughout the Columbia region, including 
South Carolina's only national park
.
Here is a list of
events
celebrating National Trails Day on Saturday and some surrounding events throughout the weekend: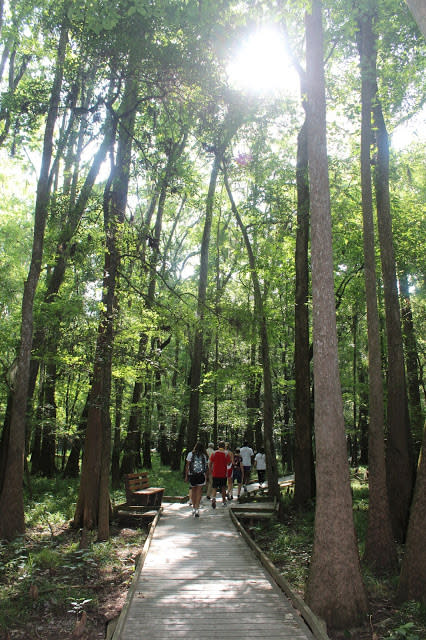 Congaree National Park
Saturday morning, hit the trails for a
Nature Discovery hike
at Congaree National Park, South Carolina's only national park. No registration is required -- just show up to the
Harry Hampton Visitors Center
, located at the park's entrance, at
9:30 am
to join an experienced ranger guide for a hike through this bottomland growth swamp.
Roll up your sleeves and join
Congaree National Park
rangers to
clean the Congaree River at the Bates Bridge landing
. Do more than explore the trails - help make them a better place. The cleanup will be from 9:00 am - Noon.
Call 803.776.4396 to register your spot. 

If you want to take your own self-guided tour, Congaree National Park welcomes you with
free admission
24/7! Just follow one of the many trails through the 22,000 acre park.
From 
9:00 am ' 11:00 am
on
Satuday
, 
Sesquicentennial State Park
 is offering a 
2-mile guided nature hike
 through the Sandhills Hiking trail. 
Registration is required call (803) 788-2706 or e-mail sesqui@scprt.com to register.

Harbison State Forest
In April,
Harbison State Forest
added 5,000 more feet of sustainable new trail onto their Midlands Mountain Trail. For National Trails Day, explore the new path and existing trails by hiking or biking.
Daily parking fee for Harbison is $5, call (803) 466-5360 for more details.

More trails and parks throughout the region: