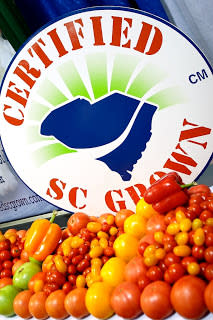 While the South Carolina State Farmers Market is at its peak during the summer months, the winter months also offer a wide variety of locally grown produce to enjoy. There is something always in season at the SC State Farmers Market!

So to celebrate the wonderful winter bounty here in South Carolina, the South Carolina Department of Agriculture and the SC Specialty Food Association are holding an indoor Winter Certified SC Farmers Market at the SC State Farmers Market, 3483 Charleston Highway in West Columbia. Starting this Saturday, January 7, and running each Saturday until the end of March, visitors can enjoy shopping for locally grown in the warm and cozy comfort of the Corbett Building at the market. The doors are open from 9:00 am to 1:00 pm. Vendors will be on hand selling collards, cabbage, sweet potatoes, and other seasonal produce.

The market vendors will offer cured bacon, 100% grass fed beef, and eggs. Other items unique to South Carolina that will be offered include: goat milk soap, shea butter, and body scrubs; soy candles, SC ' made painted crafts and jewelry; gourmet salt, rubs, baking and dessert mixes; honey, syrup, sauces, dips, jams, and jellies; cookies, cakes, breads and other baked goods; peanut brittle; frozen blueberries and pears; wine and juice; and other specialty products. Invite your friends and family and come shop at the market to take advantage of some wonderful Certified SC Grown produce.

Contributed by guest blogger, Stephen Hudson, public information coordinator at South Carolina Department of Agriculture. Keep up with South Carolina Department of Agriculture on Facebook and Twitter.