Are You Ready to Rock?
Wednesday, November 18, 2020 8:00 AM by Helen Dennis
One of the many things we've missed thanks to Covid-19, and there are many (we could really go for a group hug right about now), is live music. Columbia SC is a city that loves a good show. From Broadway shows at Koger Center and Hootie filling Colonial Life Arena to intimate concerts at the White Mule, it's been a minute since we jammed out.
That's why we were so excited to hear that Cola Concerts is bringing socially distanced concerts to the Columbia Speedway in Cayce. Wondering how a socially distanced concert works? We got the inside scoop.
Concert Concept
Instead of pushing your way through crowds to get front row, Cola Concerts is keeping you and your concert crew safe with over 500 socially distant coves. These 12' x 10' sections fit up to 8 people. Instead of buying individual tickets, you'll purchase a cove with your quarantine crew. But you don't have to fill it up all the way! You simply must purchase a group of at least 4 tickets in a single transaction (for most shows) and can add on tickets from there until you've reached your 8 person limit. And, yes, you can choose the location of your cove. In the cove you can take off your mask, set up lawn chairs and picnic blankets and sing along as loud as you please.
Line-up
So far, the Cola Concerts line-up includes rock, jam bands, country and comics. Think big names like Billy Strings, Blackberry Smoke and Wynonna Judd to local SC favorites like Shovels & Rope. And we hear there are more shows on the way. Keep an eye on our calendar for updates and announcements.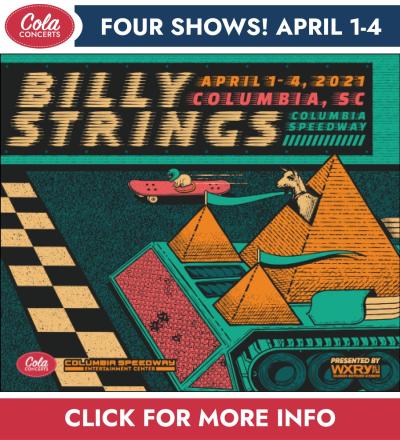 Know Before You Go
Before you head out to the Speedway, you'll want to be prepared. Like most concert venues these days, Cola Concerts has a clear bag policy. If you still haven't found the perfect clear tote, we've got one that shows off your local pride and is big enough for all your concert supplies.
Speaking of concert supplies, while you can bring your own chair and blanket, don't pack a picnic. Outside food and beverage isn't allowed, but there will be plenty of local vendors inside the show. Cola Concerts has partnered with Soda City to bring some of the city's favorite food trucks, vendors and breweries out to the show. To cut down on lines and keep both vendors and attendees safe, food can be purchased at www.colaconcerts.com/order. (No cash will be accepted.) When your food is ready, you'll receive a notification letting you know it's time to pick up.
Parking is first-come, first-serve so be sure to arrive with time to spare. For the time being, parking will be free!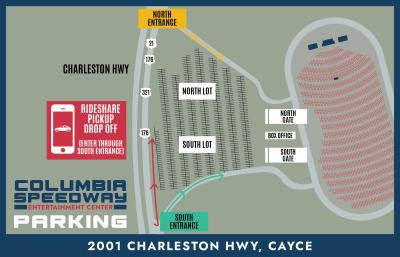 Safety Protocols 
In addition to the food ordering process, the venue has also prepared for contactless tickets, so no need to print one out. Any time you leave your cove, you must be wearing a face covering over your mouth and nose. This includes when entering/exiting the venue, going to the restrooms or picking up food and beverage. Inside of your cove, feel free to remove the mask. 
For more FAQs about the concert venue and upcoming shows, head to ColaConcerts.com and give them a follow on social media.