Columbia Museum of Art Honors Sisters with Special Exhibition
Wednesday, August 31, 2011 11:30 AM by Kat Leitner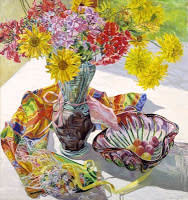 Janet Fish
'Their voracious love of art and keen eyes have significantly broadened the Museum's collection,' executive director Karen Brosius said. 'Families, children and art lovers will greatly benefit from their legacy for many decades to come.'


Sobel and Brody have provided generous financial support toward museum exhibitions, object conservation and public programs, and have volunteered countless hours of research time for more than thirty five years. They have also played an active and integral role in shaping the growth of the permanent collection by donating objects and providing funds for the purchase of art. From Leona Sobel's donation in 1976 of a Royal Doulton ewer to the recent acquisition of American photographer David Hilliard's triptych from Ethel Brody, more than 175 works have been acquired through their generosity. Their donations represent all media and range from Old Master paintings to contemporary art.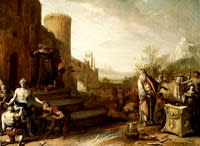 Bartholomeus Breenbergh
A Tale of Two Sisters
is a unique exhibition, in that it is installed museum-wide, showing visitors the depth and breadth of the sisters' support for the collection. The majority of the exhibition is on view in Gallery 15, with additional works on display in the Garden Terrace and second floor atrium. To help visitors identify works acquired through the generosity of Sobel and Brody, a special logo has been designed and placed adjacent to the work throughout the collection galleries.  '
We encourage visitors to look for the logo on their next visit to the Museum, and enjoy taking a 'treasure hunt' through the galleries, looking for objects acquired from Ethel and Leona
,' Curator of Decorative Arts Brian Lang said.
  
General Museum Information:
The Columbia Museum of Art
is
South Carolina's
premier international art museum and houses a world-class collection of European and American art. Founded in 1950, the Museum opened its new building on Main Street in 1998 with 25 galleries. The collection includes masterpieces of the Italian Renaissance, Baroque and Rococo from the Samuel H. Kress Collection, porcelain and works by significant furniture and silver makers, as well as American, Asian, and modern and contemporary art.