Columbia SC: The BOO! Southern Hot Spot
Wednesday, October 24, 2012 6:00 PM by Meredith Almond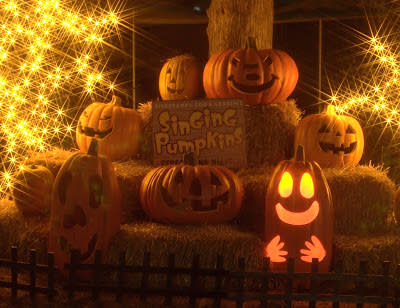 We're not generally a 'scary' town, but we do know how to celebrate the Halloween season in The New Boo! Southern Hot Spot. Browse some of these family-friendly Halloween events below to get a chill - I mean, feel - of some spooky things to do in Columbia, SC this fall:


Dracula: Ballet with a Bite! 
The undead dance into the Koger Center with Count Dracula and his legions of vampire maidens, performed by Columbia City Ballet. 
October 25 - 27, 7:30 pm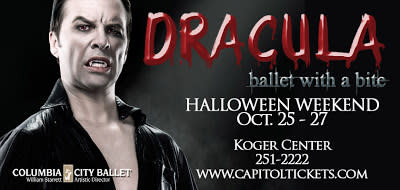 October Day of Fun at the Nickelodeon Theatre
Wake up the whole family and head down Main Street to the new Nickelodeon theatre to paint your Halloween pumpkin, make a ghost lollipop and watch a couple of Halloween short films - free! While you're on Main Street, browse the new Soda City Farmer's market lining the 1500 block.
Saturday, October 27, 10:00 am

Tricks and Treats at South Carolina State Museum
During this annual Halloween extravaganza, families can enjoy balloon art by Nick Propst with his Catalina Macaw, Trixie. There will be goblin games and spooky prizes including a haunted gallery scavenger hunt, crafts, pumpkin painting ($3), and Dia de los Muertos (Day of the Dead) activities. Come in costume, and get $1 off admission!
Saturday, October 27, 11:00 am - 4:00 pm

Spooktacular at Columbia Museum of Art 
Come to the Columbia Museum of Art dressed in your best costume and enjoy a night decorating gourds, munching on some sweet treats, face painting and more! Event price included in admission.
Saturday, October 27, 5:00 - 9:00 pm 

Lake Wateree Creepy Campout and Halloween Festival
Trick-or-treat lakeside and enjoy other family-friendly Halloween activities at this South Carolina State Park.
Saturday, October 27, 12:00 - 9:00pm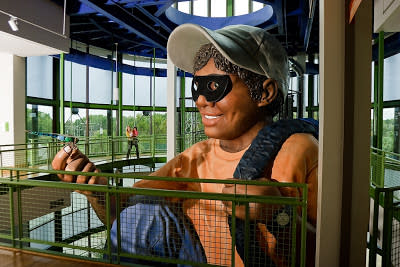 Beakers & Broomsticks at EdVenture Children's Museum
It's a public party -- Halloween with a science twist, mad experiments and creepy labs! The event includes trick or treat stations, a costume contest, pumpkin chunking, and spooky science demonstrations. Free with museum admission.
Saturday, October 27, 5:00 - 8:00pm

Boo at the Zoo 
Children 12 and under are invited to wear costumes for a night exploring Riverbanks Zoo & Garden and special exhibits like Frankenstein's Foam Zone, an eeky freaky DJ dance party and a trick-or-treat trail with candy!
Through October 30, 6:00 - 9:00pm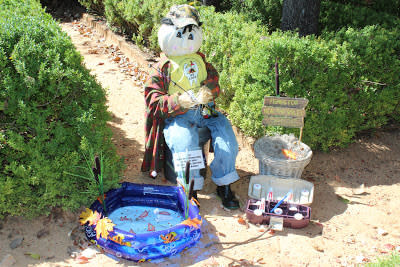 Scarecrows in the Garden: Free Exhibit
Stroll the grounds of the Hampton-Preston Mansion & Gardens where uniquely-crafted scarecrows from area businesses, schools, families, and organizations reside. Keep an eye out for "Sneaky Steve," a scarecrow notorious for changing his post daily. Join Historic Columbia Foundation for Family Day on October 27, where judges will announce the "People's Choice Award" and "Best Class Crow" awards.
Through October 31 





A House in Mourning, Hampton-Preston Mansion
Mourning the loss of a loved one was much more public for Americans during the 19th century than it is today. During the month of October, the Hampton-Preston Mansion will be set as a "House in Mourning", featuring many of these outward mourning traditions, such as wearing black clothing, covering of mirrors and even a coffin and mourning jewelry. Take a guided tour and discuss the role and importance of stages of mourning during the 1860s as a part of Historic Columbia Foundation's daily tours.
Through October 31, Tuesday - Saturday 10:00 am - 4:00 pm; Sunday 1:00 - 5:00 pm

Dr. Jekyll and Mr. Hyde
Chapin Community Theatre brings the Robert Lewis Stevenson classic to the Midlands Tech Theater. Set in London in the 1870's, the experimental Dr. Jekyll creates his alter ego, Mr. Hyde. The play follows the two men and discovers the evil in both of them.
Runs through Nov. 3, Thursday - Saturday 8:00 pm; Sunday 3:00 pm


Clinton Sease Farm Corn Maze: Race for the White House 
The Clinton Sease farm takes pride in their creative landscapes each year - this year is a corn maze in the shape of the presidential candidates' heads. When you finally make your way through the maze, try South Carolina's only Marshmallow Maze (a stroll through jumbo marshmallows) or visit the pumpkin patch, Rubber Duck Races, a forty foot slide + more.
Through November 18


Looking for something a little more... scary?
A more intense fright is waiting for you at the Hall of Horrors, every Friday and Saturday night during October. All proceeds go to SC Jaycee Camp Hope and the Pawley's Front Porch Food Truck will be waiting to calm your stomach when you exit. The lower level of Richland Mall has been taken over by the Dark Knight's Terror Trail - 7:00 pm every night through Halloween. Another option to get your heart racing is the Fear Factory Haunted House - full of insane clowns, a haunted indoor forest and its 9-foot creature. For an outdoor scare, visit Terror in the Park at North Springs Park - not recommended for children 12 & under. The Gilbert's #1 House of Terror is a little bit of a drive, but with 30 actors, 13 rooms, and 9 nights of fright, you'll be screaming for your escape.