Columbia SC's Faces of Travel: Abby Naas with the Columbia Fireflies
Tuesday, May 9, 2017 10:32 AM by Dayna Cantelmi
U.S. Travel Association's National Travel and Tourism Week is upon us once more! This year's theme, the Faces of Travel, focuses on the people who make the tourism industry warm, welcoming and thriving. Stay tuned this week as we get to know some of Columbia's Faces of Travel a little better.

Today, we have Abby Naas with the Columbia Fireflies!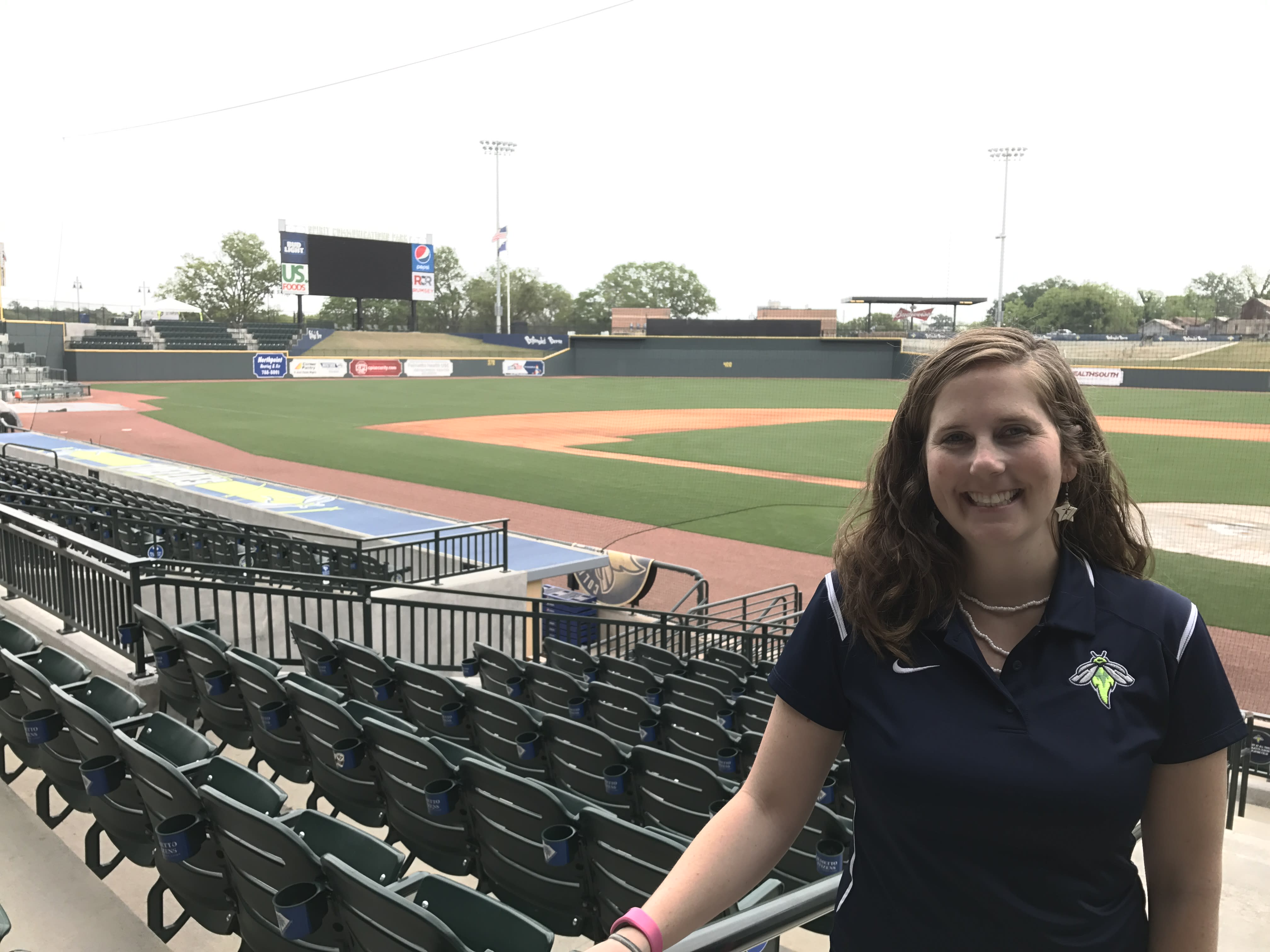 Abby Naas is the Vice President of Marketing and Public Relations for the Columbia Fireflies baseball team. Abby moved to Columbia, SC in December of 2014. Previously, Abby spent six baseball seasons with the Fort Wayne Tin Caps, Midwest League affiliate of the San Diego Padres. While in Fort Wayne, Abby was named the Midwest League Female Executive of the Year in both 2010 and 2014. Abby is originally from Davie, FL and is a proud graduate of Florida Gulf Coast University. She enjoys running, knitting and traveling.
We asked Abby to share her top picks from around the Columbia region. Here's what she had to say:
1. Where do you like to bring out-of-town visitors?
Every time I have friends or family come to town, we make sure to visit Soda City Market. It is the perfect mix of all things Columbia. The vendors are a great blend of the sights, sounds and tastes of what you will find around the city, all in one place. It is also the best location because once you've tried everything and visited everyone, you can walk over to the State House or visit Mast General Store!

2. What/ where is your favorite hidden gem?
My favorite hidden gem is Fancy That! Bistro on Hampton Street. If I don't know what to do for lunch, you're almost guaranteed that I will stop by and get the chicken salad plate.

3. What are some of your favorite events and festivals to attend?
I may be biased, but Columbia Fireflies baseball games are pretty great. We strive to put on a great show for our fans every day and it's a unique, family atmosphere for people to spend their time together. Another big one is seeing the fireflies at Congaree National Park. I love just sitting in the complete darkness and being treated to an amazing light show by these incredible creatures.

4. What's your favorite can't-miss Columbia dish?
Without a doubt, brunch at DiPrato's is the spot. Their Charleston Benedict with a crab cake on it is incredible... and a side of Adluh grits! Also, while you're there, you've got to get the pita chips and pimento cheese. Nowhere better!

5. Why do you love Columbia?
There are so many great things that I love about Columbia. I love the kindness that you experience while you're here, the generosity of the people and the unity that people love to feel while living here. Everyone in this wonderful city wants to get to know you and find out what they have in common with you. It's also a city that is full of things to do: events every week around the community, walking/ running trails and lots of safe bike routes. It's an incredible place to both live and visit!
Check in tomorrow as we talk with Lee Snelgrove with One Columbia for Arts and History!