Craft and Draft on Devine Street Adds a Unique Experience to Columbia SC's Growing Beer Scene
Thursday, July 10, 2014 7:00 AM by Guest Blogger
This post was supplied by local blogger Nick McCormac. McCormac operates the popular site Drink.Blog.Repeat., which you can also follow on Facebook, Twitter and Instagram.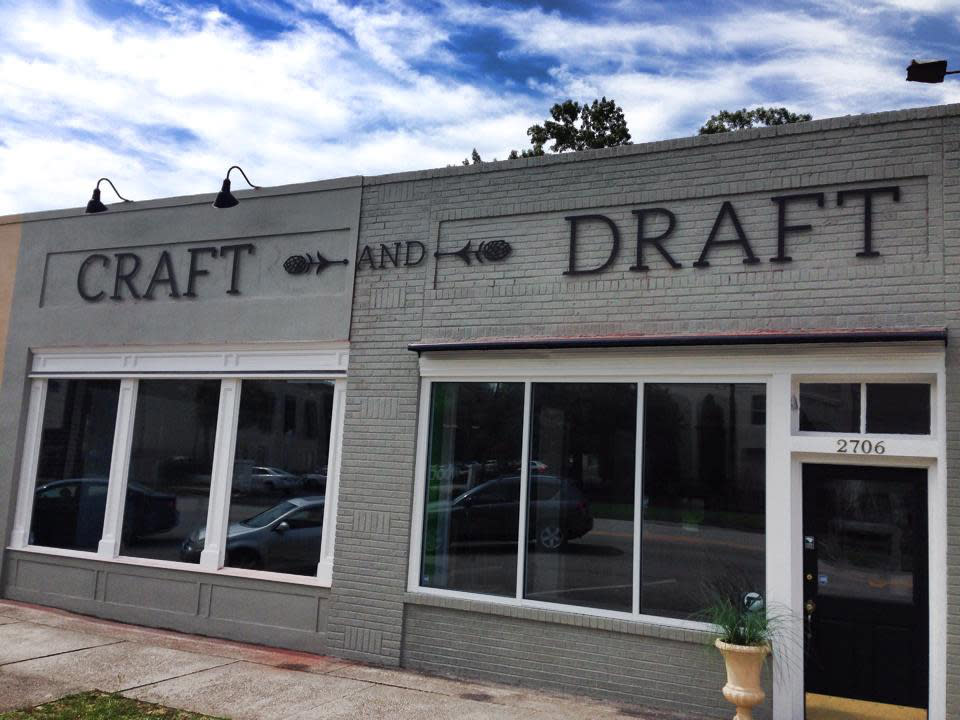 There's bound to be something unique that catches your attention the first time you walk into Craft and Draft, a new craft beer-centric store opening on Devine Street today.
It could be the handmade furnishings and shelves constructed of repurposed wood collected from an old barn. Or maybe it's the shock-your-retina green back wall, a bright contrast to the red brick walls of the building. For many, it'll be the rows and rows of craft beer ready for you to enjoy.
But for fans of the burgeoning craft beer scene, the custom 12-tap draft system parked at the back of the shop will surely be an attention-getter. And it's that aspect that makes Craft and Draft more than your average beer store and a unique addition to the Columbia area.
Located at 2706 Devine St. - sandwiched between Devine Foods and Salty's, and across the street from Burger Tavern 77 - Craft and Draft is part retail store, part bar. Patrons can pick up new and go-to releases from a growing range of craft breweries nationwide and overseas, with a heavy focus on beer produced by the growing number of South Carolina craft breweries. And you can fill growlers - reusable take-home glass jugs that come in 32-, 64- and 128-ounce sizes - from any of the rotating beers on the draft system. A small selection of wine will also be available for those who prefer vino.
But, unlike other local beer stores, your options don't end there. Want to hang out for a bit and watch TV? You're welcome to grab a pint at the bar. See something in the cooler you'd like to try? Pull out a bottle or can and crack it open. Craft and Draft's on-premise consumption licenses allows for patrons to enjoy draft, bottled or canned beers in the store, a first for the Columbia area.
"We think our on-premise license is really going to open the doors for craft beer fans both old and new alike," said Andrew Johnson, co-owner of the store with friend and business partner Kellan Monroe. "Similar hybrid bars/stores in Greenville and Charleston has really thrived by giving people more options and we think that's something people in Columbia will really take to."
Craft and Draft also plans to play a part in helping promote Columbia's craft breweries, including Conquest and River Rat - both of which are currently open - and the upcoming Swamp Cabbage and Hunter-Gatherer breweries in planning.
Craft and Draft is open from 10 AM to 7 PM Tuesdays through Thursdays and 10 AM to 8 PM Fridays and Saturdays. You can like them on Facebook at Craft And Draft; follow them on Twitter @CraftAndDraftSC; and visit their website at http://www.craftanddraftbeer.com/.