Craft Bar Happy Hour Returns to Columbia Museum of Art
Saturday, January 21, 2012 3:28 PM by Mandi Engram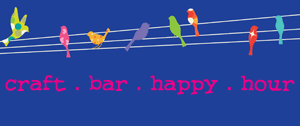 The
Columbia Museum of Art
sparks creativity among crafters with another season of
Craft Bar Happy Hour
beginning on
Tuesday, January 24
at
6:00 pm
.
All crafters, ages 12 and up are invited to bring a craft project to work on while enjoying conversations, snacks, beverages and the best of crafter camaraderie in the Museum's unconventional craft haven. Craft kits are available for new crafters or for crafters looking for a new project for $12 and can be started at the Museum during the event. This month, featured local crafter, Jenny Mae, participates in the fun by displaying her puppets and talking about what inspires her craft.
This event is perfect for people who like to turn old sweaters into cuddly stuffed animals, knit, quilt, print tea towels and make ex-boyfriend voodoo dolls!
Reserve your spot early - this intimate night of fun, food and crafts is popular. Happy hour ends at 9:00 pm. Tickets are $12 / $8 members and include refreshments. Tickets are available at
columbiamuseum.org
.
Upcoming
Craft Bar Happy Hour
events:
Tuesday, March 20 and Tuesday, April 24