'Famously Hot' Food Truck Food Court Back for Seconds
Tuesday, August 30, 2011 5:00 PM by Mandi Engram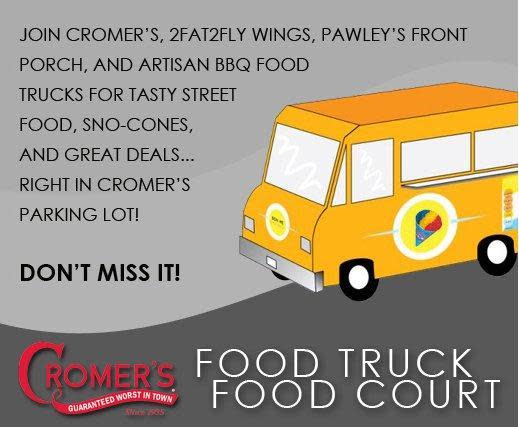 If you missed the very first Food Truck Food Court last month, well, you missed out. But you're in luck -- Food Truck Food Court is back this Wednesday, August 31, 2011 from noon to 3:00 pm. Head over to Cromer's for lunch as the four Columbia food trucks join together again for another incredible lunch break with tasty street food, sno-cones and great deals. Bone-In Artisan Barbecue on Wheels, 2 Fat 2 Fly Wings, Pawleys Front Porch Food Truck, Alfresco Mobilista will all be there and did we mention, Cromer's has boiled peanuts?! Yum! The last Food Truck Food Court was packed, so get there early if you want to beat the crowds.

Food trucks are one of the latest trends to sweep across the nation, and our food trucks are leading the way in that trend. Most recently, 2 Fat 2 Fly made the list of "12 Food Trucks Mashable Readers Love" and Alfresco Mobilista is in the running to become "America's Favorite" in The Great Food Truck Race sponsored by Food Network. Now, go vote so we can share our 'famously hot' Columbia cuisine with the rest of the country!

View photos on Facebook or Flickr, watch our video on YouTube, keep up with the latest on the Columbia Food Trucks on our website, and mark your calendar for the first Columbia Food Truck Rodeo at City Roots on Friday, September 23 from 4:00 to 11:00 pm.

P.S. We hear Cupcake has a truck making deliveries for their King Street location, but there have been no reported sightings at the Columbia location just yet. We'll keep our fingers crossed for the next Food Truck Food Court.