'Famously Hot' Food Truck Food Court is a Hit in Columbia, SC
Thursday, July 28, 2011 5:58 PM by Kat Leitner
Calling all Food Lovers -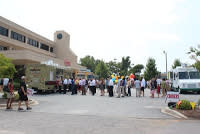 What is more exciting than seeing four food trucks, in just one parking lot, on a 'Famously Hot' lunch hour? I can't think of anything! 
Yesterday this reality came true in the
Cromer's
parking lot.  2 Fat 2 Fly Food Truck, Bone-In Artisan Barbeque on Wheels, Pawley's Front Porch Food Truck, and Alfresco Mobilista were lined up eager for the gathering lunch crowd.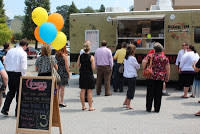 Chef Scott Hall, at
Bone-In Artisan Barbecue on Wheels
, does a wonderful job of creating the distinct and original flavor of the much loved comfort BBQ.  After spending ten years in New York City, Scott returned to the Columbia Area in 2009 and from his high-concept catering service, Scott Hall Catering, he launched Bone-In Artisan Barbecue on Wheels, the first Columbia Area entry of the West Coast Food Truck craze.  
Popular items include handmade focaccia sandwiches with smoked hickory-hoisin brisket, BBQ pulled pork, smoked chicken salad, grilled pimento cheese, and hand-cut potato chips and buttermilk-cilantro slaw.
 
Bone-In Artisan Barbecue on Wheels is easily accessible for lunch, at happy hour, on professional campuses, after cultural events, during parties, out in a field, or whenever and wherever.
Anxious customers locate Bone-In Artisan Barbeque on Wheels by following the truck on Twitter, and "liking" them on Facebook.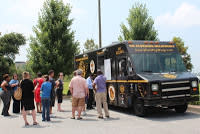 As of last November, the
2 Fat 2 Fly Wings
team offered Columbia a new twist on the traditional chicken wing. Everything you ever imagined about the possibilities of a chicken wing has been thrown to the curb. 2 Fat 2 Fly breaks all barriers!  
Imagine biting into a delicious 100% jumbo, bone-in, South Carolina raised chicken wing tasting Jalapeno, Bacon and Cheddar. Simply delicious!  The glorious combination of the chicken and filling is a second to none.  The 2 Fat 2 Fly Food Truck, aka 'The Fonz', travels around the Columbia area updating hungry followers of their whereabouts on Twitter.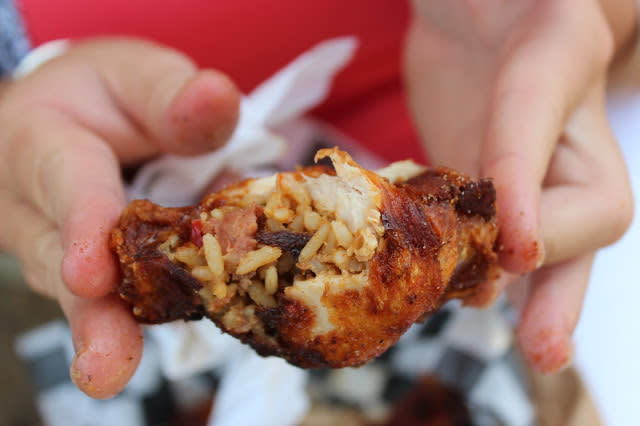 2 Fat 2 Fly has won numerous awards for their 'un-clucking believable' chicken wings. These awards include the 2011 Capital City Music & Wing Fling Best Wing and International Wing, 2010 15th Annual Budweiser War of the Wings Judges Choice, and the 2009 Capital City Wing Fling Peoples Choice and Best All Around -- and most recently today -- the list of "
12 Food Trucks Mashable Readers Love
."  
Be sure to follow 2 Fat 2 Fly on Twitter to receive 'The Fonz's' locations, and "like" 2 Fat 2 Fly on Facebook.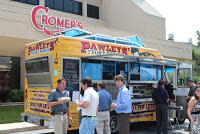 Pawleys Front Porch Food Truck
continues to please customers, now offering their delicious burgers on a mobile food truck.
Pawleys Front Porch was recently spotlighted on the hit Food Network show, 'Diners, Drive-Ins & Dives."  The show, hosted by Guy Fieri, filmed a segment in late October 2009 at the Five Points restaurant and showcased their unique and innovative burgers created by their trained chef, Kyle Taylor.
Like the other food trucks, Pawleys Front Porch Food Truck can be found by their updated tweets on Twitter.  In addition, the food truck is also available for catering services.
Follow Pawleys Front Porch Food Truck on Twitter and be sure to 'like' them on Facebook
.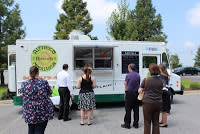 The newest food truck to Columbia,
Alfresco Mobilista or 'AlfMob'
for short, is creating quite the 'buzz' around town.    The name Alfresco Mobilista came from 'Alfresco' for eating outdoors ' and 'Mobilista' for on the move.
'AlfMob' was created by Adams Hayne & Julie soon-to-be-Hayne for their love of food, entrepreneurial spirit and just wanting to spend more time together.  After spending so much time learning from others ' whether catering large weddings and events on the coast or local Columbia events ' Adam's dream of owning his own business continued to build.  
Alfresco Mobilista brings a fresh bistro fare to the masses. Their approach is a creative spin on old favorites, and some new ideas to throw in the mix. Simple southern food with a Latin and Mediterranean twist build the delectable menu.
Be sure to follow 'AlfMob' on Twitter and "like" them Facebook to find out where they will be located next.

Mark your calendars for the next Food Truck Food Court to be held at Cromer's Parking Lot.  The date is set for August, 31st from 12:00 p.m. - 3:00 p.m.  All four food trucks will be present.  We will see you there!