Famously Hot New Year's Eve Celebration
Wednesday, November 2, 2011 6:24 PM by Mandi Engram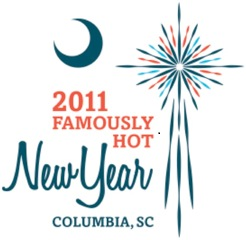 Columbia's Main Street will be the setting for a New Year's Eve celebration like the city has never seen before.

According to Mayor Steve Benjamin, this will be South Carolina's New Year's Eve event and a truly memorable night for everyone. 'We're excited about hosting what in years to come will make South Carolina host to the largest New Year's Eve celebration in the Southeast,' said Mayor Benjamin.

Join us the morning of Thursday, November 3, 2011 at 11:00 am for a press conference with Mayor Benjamin at Boyd Plaza, located outside the Columbia Museum of Art to kick off excitement for this incredible event.

The event, coined The Famously Hot New Year, is co-sponsored by BlueCross BlueShield of South Carolina, Cohn Construction Services, Wells Fargo, Budweiser of Columbia, Ben Arnold Beverage Company, Center City Partnership, WIS-TV, WXRY, Inner City Broadcasting and Post No Bills, to name a few.

Rock and Roll Hall of Famer, George Clinton, and his group P-Funk will headline with regional and local acts including Josh Roberts and The Hinges opening. There will also be fireworks, an ESPN Zone so you don't miss a minute of the New Year's Eve college bowl games, and a one-of-a-kind Palmetto Tree and Crescent moon display during the midnight countdown. Also, don't forget to visit "Resolution Row" featuring businesses and organizations that can help patrons achieve their New Year's Resolutions in the coming year.

Get excited about ringing in the New Year as this Famously Hot celebration promises to be a one-of-a-kind experience on South Carolina's Main Street. Here are more details about the event:

The setting of the celebration will be Main Street between Hampton and Taylor Streets
FREE general admission
A limited number of tickets available for entry to the "The Crescent Lounge" inside 1441 Main Street for $100 per person
Gates open at 7:30 pm on December 31, 2011
Live music and vendors starting at 8:00 pm
Free parking
Alert Cab sponsored by Budweiser of Columbia

The event will be covered live on co-sponsor WIS television, beginning with the 11:00 pm newscast on New Year's Eve. Gates will close at 1:30 am on January 1, 2012.

Residents throughout the state and the Southeast are encouraged to attend with friends and neighbors to enjoy some Famously Hot hospitality on South Carolina's Main Street.

Hotel packages will be available beginning November 7, 2011 at columbiacvb.com/newyears.