On the first Thursday of each month, businesses in downtown Columbia's Main Street keep their doors open late, offering a mix of specials, events, entertainment and more with First Thursday on Main!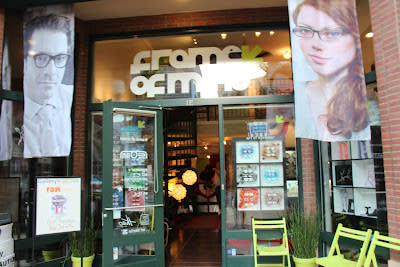 Here's a list of famously hot happenings for March's First Thursday:
March FOM Series Presents In Like A Lion
Frame of Mind
1520 Main Street
6:00 ' 9:00 p.m.
The March FOM Series kicks off with Intersections, an exhibit by Whitney LeJeune, which depicts brief moments of wonder in life that profoundly focuses, directs, or redirects our minds and which eternally change us and the world around us. She focuses on 'moments where world meets wonder.' Whitney is a full-time, working painter influenced by her early childhood home of Austin TX, the southern elegance she finds in her family's SC roots, and a desire to constantly push herself in her approach to her subjects.

TRANCE: Devon Jeremy and Beth LaRose
S & S Art Supply
1633 Main Street
6:00 ' 9:00 p.m.
S & S Art Supply is proud to host this two-woman exhibition for March's First Thursday on Main event. These two talented ladies both find inspiration from what surrounds them - nature, love, and harmony. Both artists are not only good friends, but have many shared feelings about the artistic process. Devon finds drawing a "process of free association...luring her into self-hypnosis, dictating what goes down next."

Painted Violins
Anastasia & Friends
1534 Main Street
6:00 ' 9:00 p.m.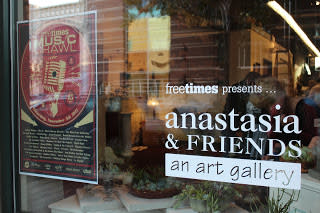 During the month of March at Anastasia & Friends, a crowd- pleasing juxtaposition of visual and performance art returns to Columbia when the South Carolina Philharmonic and Anastasia and Friends Gallery present the fifth Painted Violins event.

Eighteen artists, both returning favorites and new, have been challenged to transform violins into unique works of art. The violins will be a gallery exhibit at the Anastasia and Friends Gallery from March 1-31, during which time bids will be accepted through a silent auction.

The exhibition of the 2012 Painted Violins begins with an opening reception in conjunction with the First Thursday and runs through a closing reception Thursday, March 29. Both receptions are free and open to the public. The gallery is open to the public Monday through Friday from 9 a.m. to 5 p.m. until March 30, and by appointment after hours.

Tapp's Arts Center's March First Thursday Lineup
Tapp's Art Center
1644 Main Street
5:00 ' 9:00 p.m.

THE FOUNTAIN ROOM:
First Thursday attendees are invited to check out the space and speak with owner Frederick Hogsett about plans for the Fountain Room. The Fountain Room will open for lunch in early April. Public and former employees (or their friends and family) of Tapp's department store and The Fountain Room are invited  to bring any photos they have of the Fountain Room and their memories of the lunch counter. The Fountain Room plans to document the memories for use in the reinvented Fountain Room, and several photographers will be on hand to snap photos of the former employees.

MAIN GALLERY SPACE:
Tapp's will show art by local students, from elementary to high school beginning Thursday, March 1. Tapp's invites the public to mingle with the student artists and see their work, which will cover 300 linear feet of wall space in the gallery at Tapp's. The student show will hang through the month of March.

BACK ROOM:
5:45: Antidrive, band
7:00: Barefoot in the Park, by Brookland Cayce High School
7:30: Passing Strange preview, by Trustus Theatre
8:00: Chris Compton, singer/songwriter

Happy Hour for First Thursday
Fancy That! Bistro and Catering
1212 Hampton St.
6:00 - 9:00 p.m.
For First Thursday, come enjoy free chips and salsa with a purchase of an alcoholic beverage with Happy Hour prices at Fancy That! located on 1212 Hampton St. $2 domestic beer, $3 imported beer, and $3 glasses of wine.

Grand Opening
Paradise Ice
1627 Main Street
Main Street excitedly welcomes our newest neighbors, Paradise Ice!  They will be open and ready to go when you arrive at First Thursday in March.  Come by and celebrate with them.  Owners, Jessica and Joe, wanted you to know that they feature Italian ice and organic frozen custard, as well as locally roasted award-winning Turtle Creek Coffee. You will enjoy hand-scooped varieties of traditional as well as creative flavors that are made daily on-site.  Using only the best ingredients, they focus on staying natural and pure to flavor.  So you know, Turtle Creek Coffee is freshly ground and brewed throughout the day and available by the cup or by the bag to take home and enjoy.

Tish Lowe - Artist of the Month
Wine Down on Main
1520 Main Street
6:00 - 9:00 p.m.
Wine Down is excited to feature an exhibition by classical realist artist, Tish Lowe, during the month of March. Stop in for a glass of wine at  the cosy new wine bar on Main Street, and check out the exhibit of Lowe's drawings and paintings as Wine Down's featured artist for the month of March.


For more information, visit firstthursdaysonmain.wordpress.com. Stay up to date with City Center Partnership on Facebook and Twitter.