Five More Days: African-American Face Jugs at Columbia Museum of Art
Tuesday, December 11, 2012 5:04 PM by Renée Chow
You have just five more days to enjoy Columbia Museum of Art's exhibit Face Jugs: African-American Art and Ritual in 19th-Century South Carolina. Be sure to answer our Travel Tuesday trivia question on face jugs (at the bottom of this post) to win a famously hot prize.





The

Face Jugs 

exhibit is the first of its kind in nearly 30 years and warrants a trip to see an outstanding collection of African-American face vessels. The exhibit ends on Sunday, December 16, so be sure to get to the Museum soon!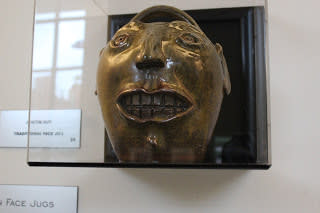 A traditional face jug by contemporary potter Justin Guy.
African Americans used the jugs as clever ways to preserve their customs and send messages. With roots in the mystic beliefs of the Kongo cultures, the vessels provide insight into African culture and the life of African Americans seeking to preserve their heritage in America. 
Admission at Columbia Museum of Art is $10 for adults and $5 for students. 
Travel Tuesday Trivia:
Where is the face jug by Justin Guy (pictured above) on display in Columbia, SC? Answer with a comment below. If you're correct, we'll send you a famously hot prize!