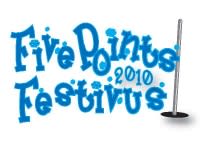 Join your favorite Five Points businesses for the 3rd Annual Five Points Festivus. This year spend your early evening visiting all the retailers, enjoying wine tastings, trunk shows, free gift wrapping, art exhibits, sales, rickshaw rides and enter to win a Five Points shopping spree from 5-8pm. Then, it's the 3rd Annual Airing of the Grievances Tour. Frustrated by the mid-term elections? Didn't get that promotion you deserved? ...Fight over a doll for your son at the mall? Well, here is your chance to let it all out in a fun and safe environment. Drink a delicious beer and clear your mental palate for 2011! The tour will be from 8-10pm and costs $10 to pre-register (ends Wednesday, December 1) and $15 on the day of event. Registration includes your official t-shirt, tour card and map, airing of grievances notepad and a bag for goodies.



Ready to register? Today's your lucky day! Save $10 on the tour by taking advantage of today's

Groupon deal

!

$5 for a Festivus bar crawl ticket valued at $15. There are only 13 hours left to buy the Groupon, so hurry and grab this daily deal to save your spot, or you run the risk of being a target of grievances!

For more information on the event, follow @FivePointsSC on Twitter and Facebook, or view your Festi-Vite.