Go Inside the South Carolina State House this Saturday
Wednesday, October 31, 2012 1:15 PM by Meredith Almond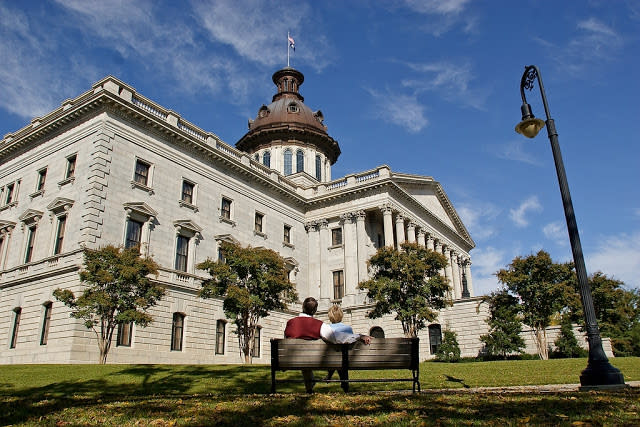 The South Carolina State House is now open for tours on the first Saturday of every month. The free, guided tours begin at 9:30 am and take you inside the capitol building and through the history of the State House, from design and construction to its modern day use as the seat of South Carolina government. The last tour begins at 3:30 pm.
The State House sitting room. Photo courtesy of David C. Baker.
Walk through the beautiful atrium lobby then up the stairs the House of Representative and Senate Chambers, where you may see the SC Government in session. Tour guides will explain the State House's architecture and art decoration as you stroll from room to room.
The first tour begins at 9:30 am and occur hourly on the half hour throughout the day. The last tour will begin at 3:30pm and the State House will close at 4:30pm. Tours are also available Monday - Friday. Reservations not required, call (803) 734-2430 or visit the State House website for more information. Self-Guided walking tours of the grounds are open to the public at any time, pick up a brochure in the Columbia Regional Visitor Center. 
Indoor photos courtesy of David C. Baker. For a sneak peek into the interior of South Carolina's capitol, check out his photo blog on the State House.

While you're here:
Take a self-guided walking tour up historical Main Street, or head down to the Vista for an afternoon of shopping and dining. Columbia's liveliest districts are just a stone's throw away from the State House. Check our calendar of events to see what's happening during your visit and stay up to date with us on Facebook and Twitter.