Okay, so it may not be our birthday, but we feel like it is because....we've been nominated for a
Shorty Award
in #travel!! We'd just like to tell you that we're incredibly thankful for all 32,000+ of our
Facebook
fans, 1,335,000+
YouTube
views, and our 12,250+
Twitter
followers. And, we'd be remiss if we didn't give a shoutout to the twelve University of South Carolina students who slathered themselves up in garnet and white paint, proudly adorning
#famouslyhot
on their chests at the South Carolina vs. Georgia football game -- especially you, hashtag guy. You're all famously hot in our book. If you're reading this, hopefully you fall into at least one of the above categories and we hope that you find our posts and the information we provide useful. We love the feedback you send us about what you want to know and the things you love about Columbia. We're also especially thankful to those of you who nominated us for a
Shorty Award
in #travel. Thanks to you, as of this blog post, we are currently sitting tight in one of the top six potential finalist spots -- currently the fourth spot. Last year, we were in the running for quite some time, so we'd love your support again this year. Competition gets tough at the end, so every vote is important!
So, what's a
Shorty Award
you ask? The Shorty Awards honor the best people and organizations on Twitter and social media. It's a pretty big deal.
The New York Times
says, "
Hollywood has the Oscars. Broadway has the Tonys. Now Twitter has the... Shorty Awards
."
Now, you're probably wondering how you can help. Well, if you're on Twitter, all you have to do is nominate
@columbiasc
for a Shorty Award in
#travel
. It only takes two seconds, but don't forget to fill out the "because..." or it won't count.
Thank you for supporting
Columbia, SC
!
http://shortyawards.com/columbiasc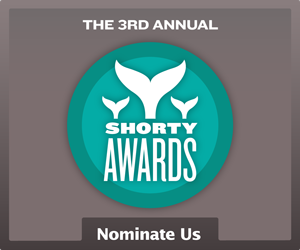 Nominate
Columbia, SC
for a
social media award
in the Shorty Awards travel category