Half-Price Burger Night at Pawleys Front Porch
Tuesday, November 8, 2011 12:59 PM by Mandi Engram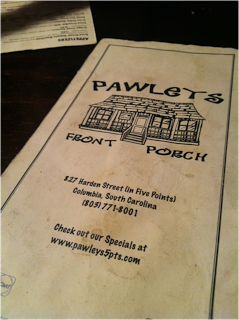 It's Tuesday night. Where are you eating?!

If I were you, I'd be headed to Pawleys Front Porch in Five Points. Tuesday night is half price burger night from 5:00 to 7:00 pm (dine-in only). If you're a college student like me, or just a frugal person, any restaurant that offers a deal this good is a hit. Pawleys Front Porch offers great food at a reasonable price.

You may have seen Pawleys Front Porch featured on Guy Fieri's Diners, Drive-Ins & Dives on the Food Network. Pawleys is known for its delicious cooked-to-order burgers named after cities on the South Carolina coast -- my favorite being the Kiawah, a burger with portabella mushroom, red peppers, and melted brie.



I like to start off a dinner at Pawleys with a fried pickle appetizer. Seven bucks may seem a little steep for this appetizer -- but you haven't tasted it yet. Being born and raised a Southern girl, I love fried pickles and can tell you the good from the bad. I don't know how they do it, but Pawleys makes the perfect combination of batter to pickle ratio -- not too heavy, not too light. It's also a large enough portion to share with at least four friends, so pass them around! Little known secret: You can bring in five cans of food to donate to Harvest Hope Food Bank and receive this appetizer for free. Free food, and helping a good cause. A win-win.

After you finish your appetizer, it's time for a burger. Last Tuesday, I opted for the Hugo, filled with chili, relish and American cheese. All burgers are served with a giant steak knife stuck in the top -- and believe me, you'll need it to cut your burger in half. Another great aspect of Pawleys is that they're not short on portions!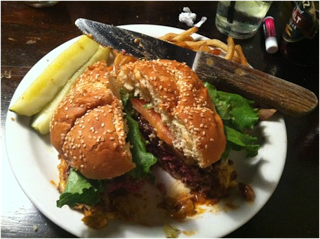 In addition to the delicious food, the atmosphere makes it a great place to hang out. Personally, I love the playlist. Kings Of Leon, The Kooks, A Day to Remember and Blink-182 are all commonly played throughout the restaurant.

Some Tips:
â?¢ Come early! Half-price burger night is no secret to Columbia locals. Be prepared for a wait, and make sure you arrive before 7:00 pm to get the half price deal.
â?¢ If you're a vegetarian, don't worry. Though your meal won't be discounted, there are options for you. Don't let the popularity of the burgers at Pawleys keep you from trying other delicious foods, such as their Fried Green Tomato and Pimento Cheese BLT Sandwich (sans bacon, of course!)

Let us know what you think of this Famously Hot restaurant. Happy eating!

Contributed by guest blogger, Meredith Almond, a sophomore at the University of South Carolina from Denver, NC. Meredith is studying public relations and entertainment management and one day hopes to pursue a career in the music industry. She is the operations manager for Student Gamecock Television (SGTV), as well as a member of its public affairs team. In her free time, Meredith loves reading, spending time outdoors, and playing soccer.