Historic Columbia Introduces Second Sunday Strolls
Thursday, July 28, 2011 4:35 PM by Mandi Engram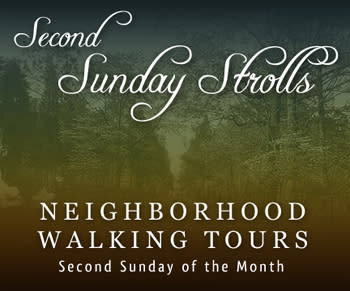 Explore Columbia and discover the rich history found in historic downtown neighborhoods on Historic Columbia Foundation's new Neighborhood Walking Tours, Second Sunday Strolls. Tours will be offered on the second Sunday of the month and will be 30 - 60 minutes in length. They're kicking off the program with a tour of Cottontown on August 14 at 2:00 pm. Get the details and be sure to check their online calendar to see what historic neighborhood they'll be exploring next.
The cost is $6.00 for adults, $3 for youth (17 and under), and free for members. Reservations are requested. Please call 803.252.1770 ext. 24 or email reservations@historiccolumbia.org.

Second Sunday Strolls are a part of Historic Columbia Foundation's Retrace: Connecting Communities Through History initiative. Proceeds benefit Historic Columbia Foundation.

About Cottontown:
Drawing its name from the cash crop that South Carolina extensively farmed during the 19th and early 20th centuries, Cottontown is among a handful of early Columbia suburbs established over a century ago. Today, the narrow district is bounded on the west by North Main Street, the north by Grace Avenue, the east by Bull Street, and the south by Elmwood Avenue.

In its earliest years, this area lay immediately outside the original city limits and housed significant numbers of cotton warehouses. For several decades, beginning in the late 19th century, Cottontown was renamed Bellevue, perhaps in the hope of drawing greater numbers of new residents. Listed in the National Register of Historic Places as the "Bellevue Historic District" in 1997, Cottontown features a remarkable concentration of residences representative of early 20th-century suburbanization.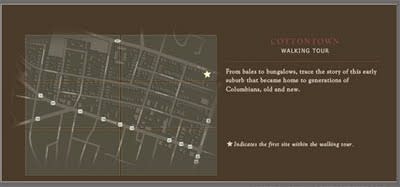 Virtual Retrace Tours:
Get a sneak peak at their August Second Sunday Stroll neighborhood by taking a virtual tour of Cottontown. This tour is available as a part of our Retrace: Connecting Communities Through History initiative. Explore 28 historic sites in Cottontown on your computer. The Cottontown neighborhood is just one of six virtual tours available on their website. They'll be showcasing the Retrace neighborhoods in the coming months during their Second Sunday Strolls. Your story could be just around the corner.