Historic Columbia Offers Free Candlelight Tours and $5 Carriage Rides
Thursday, December 15, 2011 2:29 PM by Meredith Almond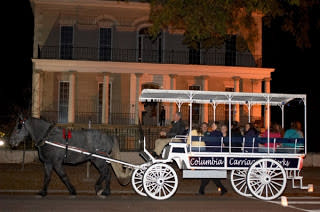 In December 1967, Historic Columbia Foundation offered candlelight tours of the Robert Mills House for the very first time. Forty-four years later, candlelight tours remain an annual tradition for many families in the Midlands.  In honor of the Foundation's 50th Anniversary, Candlelight Tours will be offered free of charge this year on December 15 and 16, 2011 from 5:30 to 8:30 pm.  Carriage rides from Columbia Carriage Works add to the fun - offered for just $5.  Those interested in taking a Candlelight Tour of the Robert Mills House, Hampton-Preston Mansion or Mann-Simons Site are encouraged to meet at the Robert Mills House, 1616 Blanding Street.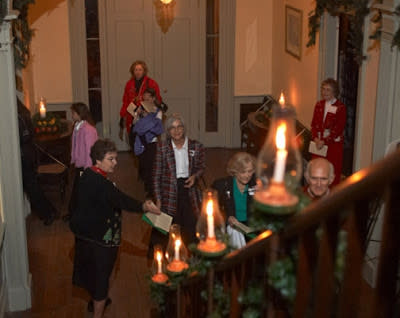 Free musical entertainment will also be included in Candlelight Tour festivities. On Thursday night's tour (12/15), Bill Sloan will be playing guitar and singing holiday and traditional music outside of the Robert Mills House. On Friday (12/16), the Columbia Baroque Soloists will be headquartered on the porch of the Hampton-Preston Mansion. 

Candlelight Tours are just one of the many holiday events hosted by Historic Columbia Foundation. Other holiday events at Historic Columbia Foundation include the Foundation's Annual Holiday Tours (through December 31), FREE Toy Roadshow (December 17), Breakfast with Victorian Santa Claus (December 17), Dollar Sundays (December 18), and Early Adventures, a program designed especially for private groups of children (month-long, ages 3-8 years old). More information at historiccolumbia.org. 

About Historic Columbia Foundation:
In November 1961, a small group of individuals intent on saving the Ainsley Hall House from demolition, officially incorporated as the Historic Columbia Foundation. Over the next five decades the organization, which was founded on the premise of preservation and education, would take on the stewardship of seven historic properties in Richland County. Today, the organization serves as a model for local preservation efforts and interpretation of local history. The 50th Anniversary year of Historic Columbia Foundation (which officially began on November 13, 2011) will include a variety of community celebratory events.

Visit their website for details or keep up with them on Twitter, or Facebook.