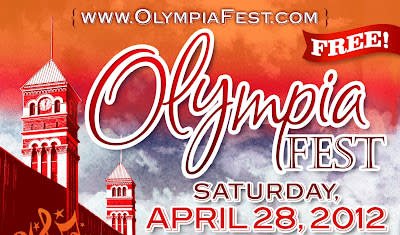 Celebrating its sixth year on Saturday, April 28, Olympia Fest promises to delight festival goers with history, family fun activities, arts, crafts, live music and a brand new Quarry Crusher Run. The event will be held from 10:00 am to 5:00 pm.

History
Tours of the Historic Olympia area, (including the Vulcan Materials' Olympia Quarry), narrated by local notables sharing stories of truth and possibly a little fiction, will be available all day. Period docents will also be traveling through the festival sharing stories of the neighborhood's mill history. Tours of the historic Olympia & Granby Mills, which have been converted into contemporary apartment homes, will also be available.

Music
Bring a lawn chair and relax on the green to listen to great local music including Daniel Howle + Firework Show with special guest Bret Mosley, The Reggie Sullivan Band, Tom Hall & the Plowboys, Brittani Gladden, Bob Benjamin, The Agents, and Next Door Drummers.

Quarry Crusher Run
Starting at 10:00, up to 200 runners will run the 3.72 mile challenging terrain through a landscape of granite and stone cliffs to the depths of the Vulcan Quarry in the first ever Quarry Crusher Run.  The real test of Columbia's most challenging foot race is the climb back out from the depths, a grueling 1.5 mile climb at a 10% grade. Find out if spots still remain to sign up at QuarryCrusherRun.com.

Olympia Fest will be held in the green space in front of Olympia & Granby Mills Apartments, and entry is free. Quarry bus tours are $5.  For more information on parking and other logistics, visit OlympiaFest.com.

Stay up to date with Olympia Fest on Facebook and Twitter.