Hooray for Columbia's Greek Festival... Opa!
Friday, September 16, 2011 12:04 PM by Kim Jamieson
Yesterday marked the opening of one of the most highly anticipated and, in my opinion anyway, best festivals in the capital city. Arriving shortly after the gates opened at 10:00 am, I was granted a golden ticket and entered the wonderful world of Columbia's Greek Festival. And by "golden ticket" I mean a map that indicated where the yummy eats were located.
Wanting to have the full experience of the entire festival on my hour lunch break, I decided to do a quick 'lap before committing to a location' (Clueless fans, you're welcome).  
I found some pretty necklaces, rings and fun jewels.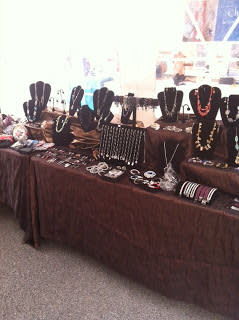 Unique pursesâ?¦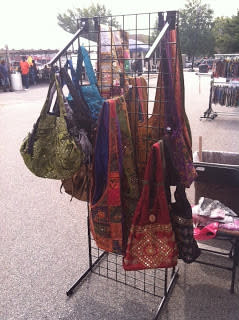 And a children's ferris wheel. FUN!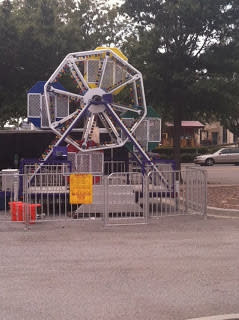 After my lap around the vendors' booths, it was time to get down to the real business of why I was there - the food! As I started heading toward the smells wafting in the air, I quickly noticed that everyone had the same idea I did about coming early. It was packed!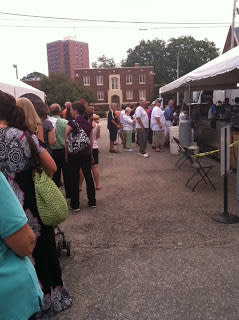 What was a girl on a time crunch to do? Settling my emotions I walked up to the closest apron-clad volunteer and said, '
Excuse me, ma'am, all I would like is baklava and spanakopeta. Do I have to wait in this line
?' (Insert puppy dog face with a wink here). '
Come this way honey
,' was all I heard before being lead into the wonderful world of â?¦.the inside dining area of the
Greek Festival
. (Side note: I must have overlooked this on my golden ticket. Whoops!) Glancing at the 'Coffee Shop Pastries' sign and knowing I would be back to partake in those delights, I refocused on my new found friend and followed her all the way to the front of the "sides only" line. My spanakopeta and I were finally united!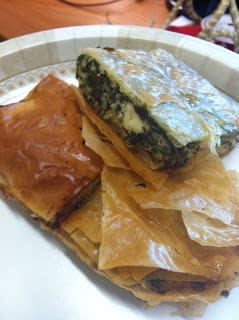 Because one spanakopeta wasn't enough, I, in true double take fashion, made the quick decision to grab two, all the while knowing that two equaled four pieces of spanakopeta, as I jumped in line with my hands full of spinach/feta/fillo pastries and the biggest feta-filled Greek salad ever.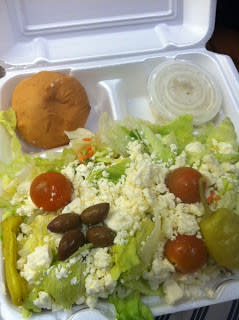 After a quick glance at my watch and realizing time was a-tickin', I ran past the baklava stand, grabbed a piece of the sweet treat and headed out the door, tickled pink to know that today was going to be the best lunch ever.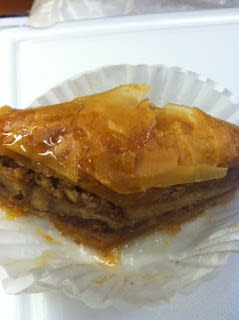 The festival runs through the weekend. Hours are
Thursday
to
Saturday
from
10:00 am
to
10:00 pm
and
Sunday
from
noon
to
8:00 pm
. The festival is located at the
Holy Trinity Greek Orthodox Church
on the corner of Sumter and Calhoun Streets.
Here's what to expect:
Greek Folk Dancing
Enjoy Greek Folk Dancing throughout the Greek Festival beginning Friday evening and all day Saturday and Sunday. The dancers wear authentic hand made costumes and perform various dances from different regions of Greece.
Greek Culture
Located in the Cultural Exhibit in the Main Building, video presentations and discussions of Greek Culture, History & Heritage, and Modern Greece will occur hourly from 11:00 am to 9:00 pm, on Thursday, Friday and Saturday. Then again from 12:00 pm to 5:00 pm on Sunday.
Self Guided Church Tours
Visitors are invited to tour our new sanctuary during the following times: Thursday, Friday, and Saturday from 11:00 a.m. until 2:00 p.m. & 4:00 until 7:00 p.m.; Sunday 1:00 until 6:00 p.m. Modest dress required.
Special Features
Fun and Fables with AESOP
by Patchwork Players Theatre Company. Performing Saturday at 11:00 a.m. and 2:00 p.m. and on Sunday at 2:00 p.m.
Live Greek Music
Enjoy the Nick Demos Band and the Nick Trivelas Band, both inside and outside throughout the day and evening.
For more information about the festival visit columbiasgreekfestival.com or keep up with them on Facebook.