Hot Spots to Brunch + Lunch on Easter Sunday 2012
Thursday, April 5, 2012 9:35 AM by Meredith Almond
Looking for 2013 Easter Brunch specials? Get the scoop on this year's specials: Hop to it! Hot Spots to Brunch on Easter Sunday 2013.

If you're from the South, you know this. If not - you'll learn it with one visit to Columbia... Holidays are all celebrated with eating, and celebrating with good food is a way of life down here. This Sunday, many area restaurants serving Easter specials to celebrate. We've compiled a list of a few to make your search for the perfect spot a little easier.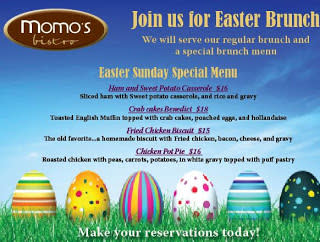 The first hot spot for brunch is Momo's Bistro on Devine Street. Momo's is known for its elegance and fine dining atmosphere. Their special on Sunday includes a special Easter menu in addition to their regular brunch menu. Make your reservation today  by emailing reservations@momos-bistro.com or calling (803) 252-2700. View details

Columbo's at the DoubleTree on Bush River Road is offering a brunch special of their own. From 11:00am - 2:00pm Columbo's will serve a wide array of food in a buffet >View details

If you'd rather skip brunch and just look at a lunch menu, there are some options for you as well.

The Bone-In Artisan BBQ Food Truck will be stationed at the Corley Mill House & Garden on Sunday from 11:30am - 2:00pm. Bone-in will offer much more than BBQ on Sunday with menu items such as fried chicken, cherry & root beer glazed ham, fried green tomatoes, braised collards, and banana upside down cake. Stroll through the beautiful Corley Mill Gardens and enjoy this buffet->View details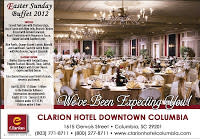 The Clarion Hotel Downtown's Easter Lunch buffet is open from 11:00am - 3:00pm. Yet another diverse menu offers delicacies such as a leg of lamb in mint jelly, baked cod in sauteed leeks, smoked scallops, and much more. Prices range from $17.95 to $31.95. Reservations recommended. Call (803)771-8711 ext. 7770 to reserve your table. View details

Did we miss any local Brunch specials? Comment below on this post and let us know if we left off your favorite Easter brunch special!

For more Easter events, visit our calendar of events, and book a hotel room to make a culinary excursion of your weekend!