Indie Grits Returns to Columbia for 4th Annual Southern Film Fest
Friday, April 9, 2010 5:13 PM by Mandi Engram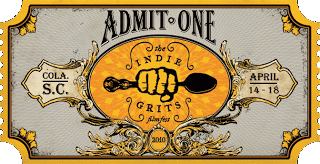 Columbia will put its Southern hospitality to good use as it welcomes back the Indie Grits Film Fest for its fourth anniversary Wednesday, April 14 ' Sunday, April 18. As a juried film fest dedicated to showcasing Southern-influenced films, this year's Indie Grits boasts 52 films from 49 filmmakers, as well as fun, interactive events for the public.

Run by the Nickelodeon Theatre, South Carolina's only nonprofit art house movie theatre, Indie Grits events will be held in many buildings and venues on Main Street. Catch film screenings at the Nick and the newly renovated Fox Theatre for a glimpse of the Nick's future location. Over 1,000 people attended last year's Indie Grits, and the fourth annual event is expected to be even bigger.

Not an independent film connoisseur? Don't worry, and don't miss out! Indie Grits has a film or event for everyone. With short films, documentaries and feature films on everything from drag queens to double dates to cowboys to rockers, there's something to suit everyone's tastes.

Here is a preview of some of the Indie Grits exclusives:

â?¢ Passenger Pigeons, a film by North Carolinian Martha Stevens, just won a top award at SXSW
â?¢ Film screenings from University of South Carolina's Moving Image Research collection
â?¢ A children's event for the debut of Lunch Money's music videos
â?¢ Works in Progress filmmaker workshop: discover how two filmmakers go through the creative and editing processes
â?¢ Sovereign Screens: an interactive screening of experimental films with a DJ at the Tapp's building

Festival passes, which grant entry to every event and VIP party, are $100, all-movie passes are $50 and individual program tickets are $7. To be a part of the film fest, visit www.indiegrits.com for the full Indie Grits schedule, to purchase tickets and follow the IG blog.

Written by guest blogger, Jacque Riley, Founder and CEO of Riley Communications, LLC.