Inside Look at Columbia City Ballet's "The Nutcracker"
Friday, December 14, 2012 9:13 AM by Meredith Almond
Not only is Columbia, SC South Carolina's Capital city, but we're the hub of the state's flagship university, the University of South Carolina. As students finish up their semesters, many take advantage of Columbia's numerous things to do and jam-packed calendar of events for final project ideas. Read below for one student's behind-the-scenes experience with the Columbia City Ballet.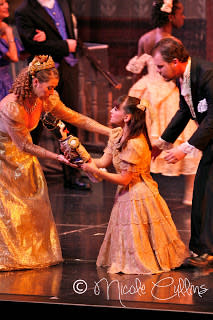 If you've never seen the Columbia City Ballet's performance of The Nutcracker, I highly recommend making it to the Koger Center before the show closes this weekend. Each show is made to be a tad bit different so that you're sure to get a new surprise each time. This was my first time ever seeing a production of The Nutcracker, but from what I heard from surrounding audience members, the Columbia City Ballet's is especially fantastic.
 

The show was absolutely PHENOMENAL. So good, in fact, that I saw it twice. There were a few moments I was so wrapped up in the performance that I almost forgot I was there to take pictures. Oops.

The entire show captivates the audience from curtain opening to finale, but there are a few scenes that are specifically breathtaking. The 'Snow' scene was by far my favorite. The delicate downfall of snow throughout the dance made for a beautiful and enchanting winter wonderland.

I'm not sure how I've been in Columbia for three years and missed this wonderful performance. After this week, I can truly say the Columbia City Ballet's Nutcracker is definitely one of Columbia's best holiday season traditions

The Nutcracker closes this weekend at the Koger Center with performances through Sunday. You can purchase tickets online or at the Koger Center Box office, Monday - Friday from 9:00 am - 5:00 pm or by phone (803) 777-5112.