Lake Carolina's 9th Annual Wine & Food Festival
Tuesday, October 4, 2011 11:29 AM by Guest Blogger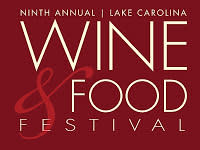 Taste the food, drink the wine and feel the music at this year's Wine & Food Festival!

Savor the flavors of fine wine and gourmet cuisine at Lake Carolina's 9th Annual Wine & Food Festival on Saturday, October 22, from 1:00 to 5:00 pm. Join award winning chefs, local restaurants, and wine vendors in a beautiful outdoor setting while sampling tasty bites and sipping fine wines. Over 15 wineries, distributors, food vendors and restaurants will participate and several hundred are expected to attend and delight in the offerings. Food demonstrations will take place during the day featuring culinary experts from Columbia. Come see what's cooking. Not only will they feature exceptional wines and delicious food, but craft beer vendors will also be pouring their seasonal brews.

Experience the culinary culture of the South. Fresh ingredients, local flavor, and harmonizing finishes in a picturesque park-like setting.

Lake Carolina is proud to contribute all proceeds from the 2011 Wine & Food Festival to benefit the Ronald McDonald House Charities of Columbia, SC. The Ronald McDonald House aids sick children by providing a comfortable "home away from home" where families can rest, enjoy home-cooked meals, meet other families in similar situations and be near their child, regardless of their ability to pay.

Attendees of Lake Carolina's Wine & Food Festival will also have the opportunity to bid on special items at the Silent Auction including entertainment tickets, travel destinations, fine art and an assortment of other items.

Tickets are on sale now at LakeCarolinaWineandFood.com. An advance ticket purchase of $25 will get you through the gate and includes a commemorative wine glass, wine tastings and live entertainment by the Great Society Band. Bring cash for food sampling, beer tasting and other quality goods. Held outside on the Village Green at Lake Carolina, this event brings in some of the area's best wineries and Columbia's favorite cuisine and award-winning chefs.

Lovers of wine, food and beer welcome!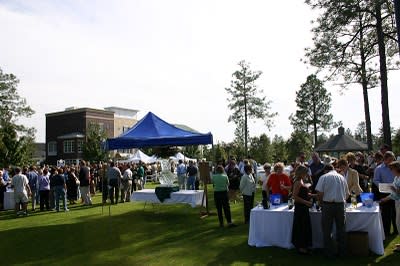 THE DETAILS:
$25 per ticket, must be 21yrs. of age or older. Includes parking, event entrance, a commemorative wine glass and wine tastings.

THE WHERE:
Lake Carolina Village Green, 100 Lake Carolina Boulevard, Columbia, SC 29229

THE WHEN:
Saturday, October 22, 2011 1pm ' 5pm

THE HOW:
Buy Tickets at LakeCarolinaWineandFood.com or at the Lake Carolina Sales Center.

Keep up with Lake Carolina's Wine & Food Festival on Facebook and Twitter for event promotions, giveaways and festival highlights.

Contributed by guest blogger, Sandra Parkhurst, on behalf of Lake Carolina.