Life Size Chess Players on Display at Airport
Friday, July 23, 2010 5:59 PM by Mandi Engram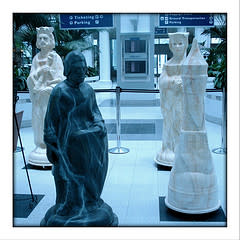 Columbia Metropolitan Airport has something that no other airport has! They are proud to be the home, for about 6 weeks, of six life-size chess pieces that are actual 3D replicas of a Renaissance chess set.

These 'one of a kind' pieces were created by using new laser scanning technology, CNC machinery (Computer Numerical Controlled), 1' MDF composite wood, hand carving, and a labor of love. The pieces were created by Jim McGrew of McGrew Woodworking and David Jones, owner of Stee-Rike 3, Inc. Both gentlemen have traveled extensively in Europe and had seen similar pieces but not as large or life-size as these. The six pieces include a king (6' 3' and 250 lbs.), queen, bishop, knight, rook, and pawn. The details of the pieces, such as facial features, have been hand-carved. They have also been hand-sanded and each piece has been burnished to a smooth finish to take on the look of marble.

They invite folks to come out and take a look at this unique display!

Follow Columbia Metropolitan Airport on Facebook and Twitter.