Lights Before Christmas Shine at Riverbanks
Thursday, November 18, 2010 9:03 AM
Midland Tradition Opens for 23rd Year
Guests will str
oll the paths throughout the
Zoo
and marvel at the trees adorned with one million twinkling lights and countless handcrafted and animated images. They can sing along to the music in Motion Lights Spectacular or cozy up to the fire and listen as seasonal stories are read aloud in the Congo Classroom. The Holiday Card Walk, located in Safari Camp, features larger-than-life holiday cards created by local schools.
In an effort to help Columbia go green this holiday season, Riverbanks will recycle your old Christmas lights. Visitors can bring their incandescent Christmas lights (working or not) to the Lights Before Christmas and receive a coupon for $3 off select Energy Star LED Christmas lights at Lowes.
'Riverbanks began the switch to energy-efficient LED Christmas lights in 2007 when we adde
d the Music in Motion Lights Spectacular. Since then, we have made significant strides in switching many sections of the park to LEDs,' said Satch Krantz, executive director of
Riverbanks Zoo and Garden
. 'We hope our visitors will follow our lead and recycle their old Christmas lights at the Zoo.'
Lights-goers will also have the opportunity to sip hot cocoa and toast marshmallows at the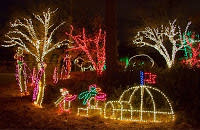 Jingle Bell Bonfire. No visit to Lights Before Christmas is complete without a stop to see Santa to share holiday wishes and snap a photo (with your personal camera). And don't forget to bring your hat ' it snows every night at Lights Before Christmas.
The Lights will dazzle from 6 to 9 pm each evening from November 19 to January 2, with closings on November 25, December 24, 25 and 31. SCE&G elves will be present on opening night, November 19, to distribute energy-efficient CFL light bulbs to the first 250 families attending the event.
Riverbanks members are eligible to receive one free visit to Lights Before Christmas when they show their membership card and picture ID at the gate; guest passes are not accepted. When purchased in advance, tickets are $8 for adults, $6 for children ages 3 ' 12 and free for children under 3.
Tickets can be purchased in advance at www.riverbanks.org or at any ticket booth between 9am and 5pm. Tickets will increase $2 at the gate after 5pm.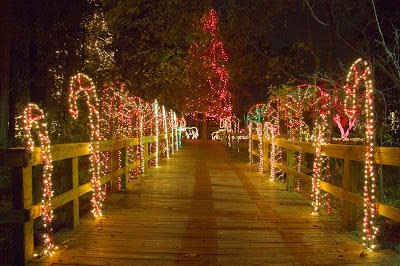 Parking for the event will be on the
Zoo
side only.