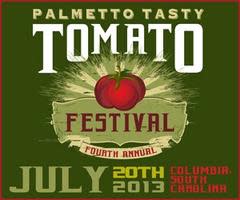 Do you love tomatoes, music, good food + drink and old time festival fun? Come celebrate local food and the TOMATO, champion of the home garden
at the
2nd Annual Palmetto Tasty Tomato Festival
on Sunday, July 17, 2011 from 6:00 to 9:00 pm at
City Roots
urban sustainable farm. Tickets are $10 in advance and $15 at the gate. Kids admission and parking are free.
Sit back, relax and listen to live Americana + bluegrass music by Tom Hall and The Plowboys or the sparkling folk and cool old gold by DJs Steve Gibson and Scott Padgett. Enjoy some of Columbia's tastiest tomatoes along with barbeque, fresh tacos, pies, tomato cocktails, locally brewed beer and more! If you're still craving those "'maters," don't miss the tomato tastings and tomato sandwich bar.
The Palmetto Tasty Tomato Festival highlights the taste superiority of the sustainably grown tomato, celebrates the bio-diversity of foods, and gathers the progressive South Carolinian food community for a relaxed, family-friendly party!
This event is presented by
Slow Food Columbia
and
Sustainable Midlands
. Find more information about the 2nd Annual Palmetto Tasty Tomato Festival on
Facebook
. Stay up to date with @SlowFoodCola on
Twitter
and @SustainableMid on
Twitter
.