NASA's Driven to Explore Exhibit at EdVenture Children's Museum
Monday, June 13, 2011 3:00 PM by Kat Leitner
Have you dreamed of touching the moon one day?  Well now is your chance!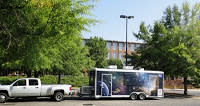 NASA's Driven to Explore Exhibit
 arriving at EdVenture Children's Museum.
NASA's Driven to Explore
traveling exhibit, a multimedia experience, will be at
EdVenture Children's Museum
this
Tuesday, June 14th and Wednesday, June 15th from 9:00 a.m. until 5:00 p.m
.  Visitors will have the opportunity to touch a nearly 4-billion-year old lunar rock sample brought to Earth by the astronauts of Apollo 17 in 1972, America's last human mission to the moon.  Don't let this opportunity pass by - the rock is only one of eight lunar samples made available for the public to touch!  

The walking tour includes imagery, audio, and visual technology that highlights why we explore, the challenges of human space exploration, the accomplishments of the space shuttle and the International Space Station, the many technological advances NASA provides to improve life on Earth, and the never ending field tests and human research to ensure that future missions are safe, sustainable, and affordable.
 
With EdVenture Children's Museum's mission being to inspire children to experience the joy of learning, it is the perfect location for NASA's Driven to Explore Exhibit. The exhibit is free with museum admission.  Be sure to check it out this week!