New Chicks in Town at Riverbanks Zoo & Garden
Tuesday, September 6, 2011 3:42 PM by Kat Leitner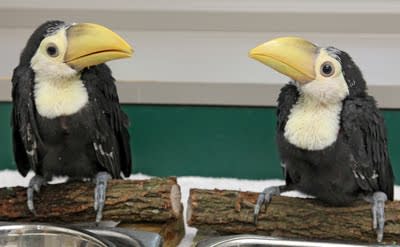 Guests visiting Riverbanks Zoo and Garden during the Labor Day weekend were among the first to see the Zoo's two toco toucan chicks ' now on exhibit for a limited time.





The toucan chicks hatched on July 16, 2011, and since that time have been hand-raised by the Zoo's bird staff.




'At about 6 weeks old, the chicks begin to fly, explore their surroundings and learn the skills necessary to feed on their own,' said Martin Vince, curator of birds. 'Because of their young age, however, we will continue to keep them under careful observation during the day and move them into the Bird Conservation Center at night.'




Guests visiting the Zoo can watch as bird keepers feed the toucan chicks during a special presentation at 11:30 a.m. daily ' in the Bird Garden across from Kangaroo Walkabout.




But hurry! The birds will be moved off exhibit in mid-September to prepare them for transfer to other zoos as part of the Association of Zoos and Aquariums' national breeding program. Riverbanks has been breeding toco toucans since 1977 and is one of only a few zoos to successfully do so each year.




It is the mission of Riverbanks Zoo and Garden to foster appreciation and concern for all living things. Riverbanks is located at 500 Wildlife Parkway, Columbia, SC 29210. The Botanical Garden entrance is located at 1300 Botanical Parkway, West Columbia, SC 29169. The park is open daily from 9am to 5pm, except for Thanksgiving and Christmas day. Admission is $11.75 for adults, $9.25 for children ages 3 ' 12 free for children 2 and under. Group rates and other discounts may apply. Year-round membership packages are also available. For more information, call Riverbanks at 803.779.8717, visit www.riverbanks.org, www.facebook.com/riverbankszoo, or follow them at http://twitter.com/RiverbanksZoo.