Planets for the People: Sidewalk Astronomy at Mellow Mushroom
Wednesday, April 6, 2011 1:39 PM by Guest Blogger
The next time you see a crowded sidewalk in the Vista it could be a line at a popular night spot or it might be a group of sidewalk astronomers! In January the South Carolina State Museum started partnering with the Midlands Astronomy Club to present a new outreach program, Planets for the People: Sidewalk Astronomy. This event brings stargazing to the streets of famously hot Columbia to introduce passersby to telescopes and astronomical observation skills. Since its start Planets for the People has offered many attendees their first opportunity to look deep into the sky through a telescope. It is also a chance to acquaint people with celestial objects that are often overlooked. For example, while some planets are visible to the naked eye they are often mistaken for stars. Plus, if you are a fan of telescopes, members of the Midlands Astronomy Club will be able to discuss the types and brands of telescopes currently available. Many observers enjoy learning how telescopes work and about the advanced drive systems that find objects and track them through the sky!

On Saturday, April 9 from 6:00 to 9:00 pm, the third Planets for the People will take place at Mellow Mushroom (1009 Gervais St.) in the Vista. SC State Museum staff and Midlands Astronomy Club members will set up telescopes outside the restaurant to give attendees a look at the moon, planets and stars. Guests will have a chance to peer into a solar scope early in the evening to get a close up look at our most important star: the sun. After dark Saturn, the second largest planet in our solar system will rise into view! Not only will attendees get to explore the night sky they will also receive a little museum swag. Staff will be handing out coupons for museum admission to event attendees and if you are a museum member you will receive a coupon to the museum store. Stargazing is free to public and if you make Mellow Mushroom pizza a part of your dinner plans for the evening they will donate a portion of your purchase to the South Carolina State Museum!

You can learn more about this event at the museum's website: www.southcarolinastatemuseum.org or by calling 803.898.4937.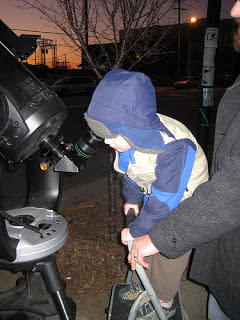 This little guy is getting an early introduction to stargazing!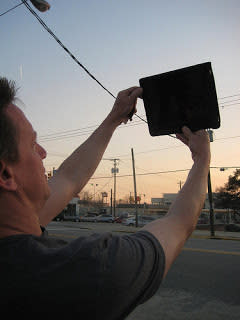 Observing the heavens for celestial bodies?
Yes, there is an app for that.


Contributed by guest blogger, Jennifer Thrailkill, membership manager at the South Carolina State Museum.

Keep up with South Carolina State Museum on Facebook or their legendary (and occasionally headless) spirit, Bubba Ghost, on Twitter. View the Facebook event.