Restaurant Week Columbia starts today!
Friday, January 14, 2011 2:40 PM by Mandi Engram


From fine dining to casual, participating Columbia restaurants will feature special menu items, promotions, and discounts January 14-22, 2011. Diners can sample our newest restaurants, dine at old favorites and taste a variety of exceptional dishes being prepared by chefs at a great value for customers. Restaurants suggest making reservations in advance as seating fills up very quickly. Visit www.restaurantweekcolumbia.com to view special offers, restaurant menus, and reservation information.

As if the famously hot deals aren't exciting enough, we're offering you a chance to win $50 to 27 famously hot restaurants in "The Ultimate Restaurant Week Giveaway!" Enter through Facebook, Twitter or online.

Want to make a weekend of your culinary adventure? Book a hotel and more at www.columbiacvb.com/restaurantweek.

Restaurant participants include Ruth's Chris Steak House, Dianne's on Devine, Cellar on Greene, Solstice Kitchen and Wine Bar, Mr. Friendly's New Southern Café, Terra, MoMo's Bistro, Villa Tronco, Main Street Restaurant at the Sheraton Hotel, Ristorante Divino, Blue Marlin Restaurant, Hennessy's Restaurant and Lounge, Yesterday's Restaurant and Tavern, The Great American Grill at the Hilton Garden Inn, Gervais & Vine, Rosso Trattoria Italia, Cantina 76, Saluda's Restaurant, Pearlz Oyster Bar, Liberty Tap Room and Grill, Tombo Grille, Virtu Restaurant and Bar, Saki Tumi Grill & Sushi Bar, Harper's Restaurant, and Wild Wing Cafe in the Vista, on Columbiana Grand and at the Village at Sandhill.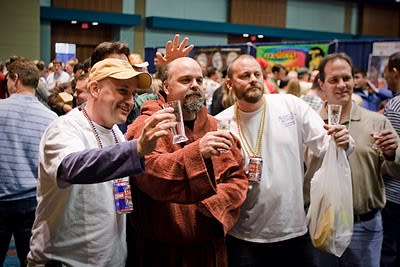 Top off your week with a celebration of world beer culture, featuring a broad sampling of hundreds of beers from over 100 breweries, food from a variety of local restaurants, educational sessions by industry experts, and entertainment by local musicians at All About Beer Magazine's World Beer Festival on Saturday, January 22 at Columbia Metropolitan Convention Center. All About Beer Magazine has presented The World Beer Festival for over a decade and it is recognized as one of the premier beer events in the country, with Forbes.com, USA Today, and Wired all calling attention to it. The festival offers two four-hour sessions. Standard admission to a single session is $40, which includes beer samples, music by local bands, educational sessions by industry experts, and a festival tasting glass. View ticket and hotel information at www.columbiacvb.com/beerfestival.