Restaurant Week Columbia + #TravelTuesday Trivia: Villa Tronco
Tuesday, January 15, 2013 2:38 PM by Renée Chow
Travel Tuesday Trivia: Villa Tronco's location is a historic landmark today. Do you know the building's original purpose?
 Leave your answer in a comment below, be the first and you'll get a famously hot prize.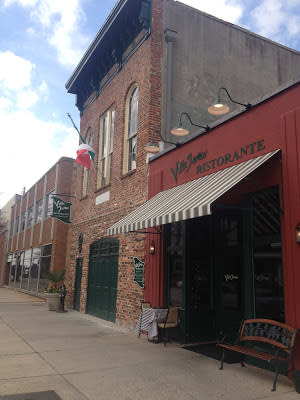 Villa Tronco
, started by Tony and Sadie Tronco, did not begin as a restaurant -- the couple first owned a fruit store, named Iodine Fruit Store. When World World II began, soldiers from across the United States were flooding into Columbia to be trained at Fort Jackson. Some Italian-American soldiers befriended the Tronco family and Sadie began cooking them spaghetti and meatballs to remind them of home. The restaurant got its start, and is now a Columbia, SC favorite.
Craving that four course menu now? Make your reservation at Villa Tronco before Restaurant Week ends this weekend: (803) 256-7677