Ringling Bros. and Barnum & Bailey ® Circus Sweepstakes
Tuesday, January 3, 2012 3:28 PM by Mandi Engram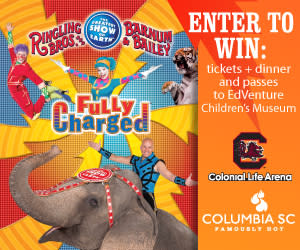 It's that time of year again for family fun in Columbia, as the circus returns to Colonial Life Arena this month, January 19-23, 2012! One lucky family could win 4 tickets to Ringling Bros. and Barnum & Bailey ® Circus, 4 tickets to EdVenture Children's Museum, 4 Sally Salamander or Famously Hot t-shirts, plus dinner at Mellow Mushroom Columbia.

You don't want to miss Fully Charged at Colonial Life Arena, the all-new surge of circus entertainment from Ringling Bros. and Barnum & Bailey®, where megawatts of thrills explode off of the arena floor with breathtaking dare-devilry, amazing stunts and never-before-seen performances that energize children of all ages! Get Fully Charged Up by the power of performers! Experience unbridled horse power, unparalleled superhuman power, and pachyderm power that generates mega-tons of fun! Feel the electro-magnetism of Tabayara, the world's most thrilling animal trainer. Audiences will feel the earth shake when the strongman lifts large, cumbersome telephone poles, which weigh up to half a ton, and twirl them above their heads while acrobats balance atop. The Human Fuse, Brian Miser, sets the arena sky ablaze as he rockets through the air from his self-made human crossbow. You can only experience this current of excitement at Ringling Bros. Fully Charged! Get your tickets for high-voltage fun today -- and don't miss the All Access Pre-Show, which starts one-hour prior to showtime and is available to all ticket-holders. See animals up close, visit with performers, get autographs, try on costumes, and enjoy the circus fun.

Purchase tickets or view sweepstakes details and enter to win on Facebook, Twitter or online.