Riverbanks Zoo and Garden to Host High School Musical Star for Public Meet and Greet
Monday, September 13, 2010 5:19 PM by Mandi Engram

Monique Coleman to Promote New Web Talk Show ' GimmeMo'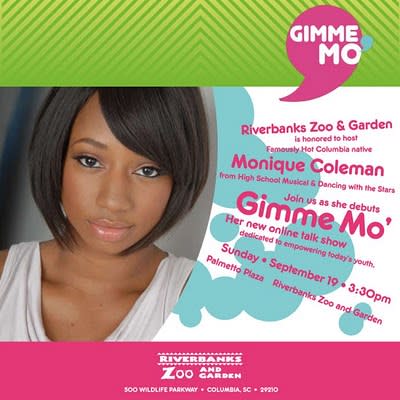 Riverbanks Zoo and Garden will welcome Monique Coleman, star of Disney's High School Musical franchise and "last woman standing" on Season 3 of Dancing with the Stars, for a public meet and greet on Sunday, September 19, beginning at 3:30 pm.

Coleman, a Columbia native, recently launched a new web talk show for teens called GimmeMo' which focuses heavily on the importance of giving back and is designed to empower and inspire young people.

GimmeMo' will focus on the real issues facing today's youth, bring awareness to positive organizations designed to help teens grow and advance while spotlighting Hollywood's commitment to giving back. Each 20-minute webisode will feature a specific topic related to teens and tweens such as teen homelessness, obesity and body image, conservation of our planet, drugs and more. Fans can watch at www.GimmeMo.com.

Riverbanks will be open on Sunday, September 19, from 9:00 am to 6:00 pm. Coleman's appearance will be in the Palmetto Plaza, beginning at 3:30pm. Admission to Riverbanks is $11.75 for adults, $9.25 for children 3 ' 12 and free for children 2 and under. Tickets may be purchased in advance at www.riverbanks.org.

About Monique Coleman:
Monique Coleman was raised in Columbia, South Carolina and began her acting career in theatre and television at an early age. After high school, Monique ventured to Chicago where she attended The Theatre School at DePaul University and obtained her BFA in Acting. To date, Monique is most recognized as Taylor McKessie from the High School Musical franchise as well as the 'last woman standing' and 4th place contestant on Season 3 of ABC's Dancing with the Stars. Prior to HSM, Monique appeared alongside James Earl Jones in the Hallmark Movie The Reading Room and received a CAMIE Award for her role. In addition to co-hosting The View and appearing on such shows as Rachel Ray, Good Morning America, Regis and Kelly, The Today Show, and Ellen, she has received 2 Teen Choice Awards, a Billboard Award, and has presented at The American Music Awards and The NAACP Image Awards. Most recently Monique gave the closing remarks at the United Nations for International Youth Day. Monique currently resides in Los Angeles, California.

About Riverbanks Zoo and Garden:
It is the mission of Riverbanks Zoo and Garden to foster appreciation and concern for all living things. Riverbanks is located at 500 Wildlife Parkway, Columbia, SC 29210. The Botanical Garden entrance is located at 1300 Botanical Parkway, West Columbia, SC 29169. The park is open daily from 9:00 am to 5:00 pm, except for Thanksgiving and Christmas day. Admission is $11.75 for adults, $9.25 for children ages 3 ' 12 and free for children 2 and under. Group rates and other discounts may apply. Year-round membership packages are also available. For more information, call Riverbanks at 803.779.8717, visit www.riverbanks.org or www.facebook.com/riverbankszoo.