Riverbanks Zoo Offers Couples Two Sweet Valentine's Treats
Tuesday, January 24, 2012 4:15 PM by Mandi Engram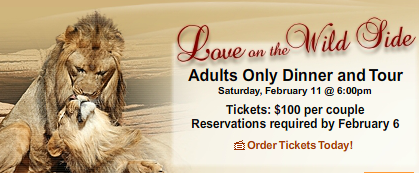 Experience Love on the Wild Side at Riverbanks
Zoo Offers Couples an Extra-Sweet Valentine's Treat
Roses are pretty and chocolate is sweet, but a
Valentine's date
at Riverbanks just can't be beat!
Riverbanks Zoo and Garden
invites you and your sweetheart to experience an unforgettable evening of
Love on the Wild Side
on
Saturday, February 11
at
6:00 pm
.
Reserve your spot today for this adults-only dinner and walking tour. Get an inside look at the world of animal amour. Learn how a koala's strong scent and loud voice play a role in mating and dating, explore the unique social structure of hyenas and discover other interesting facts about animal courtship.
To top off this wildly-romantic evening, couples will sit-down to a 3-course dinner specially created by Riverbanks' executive chef. The meal includes a signature cocktail; a cash bar also will be available.
Limited space is available. Tickets are
$100 per couple
and should be purchased online at
riverbanks.org
, no later than
Monday, February 6
. No one under 21 will be admitted. For vegetarian requests, email
catering@riverbanks.org
.
Note: Love on the Wild Side will take place rain or shine. Guests are encouraged to wear weather-appropriate clothing and comfortable shoes.

Get an Early Taste of Spring with Orchids on the Riverbanks
Annual Festival Planned for Valentine's Weekend at Riverbanks Botanical Garden
Riverbanks is once again partnering with the South Carolina Orchid Society and Ikebana International Chapter 182 for the 7th annual
Orchids on the Riverbanks Festival
, taking place
February 10-12, 2012
 at Riverbanks Botanical Garden.
The vibrant display of blooming orchids features hundreds of varieties and arrangements from around the world.
'
Whether you love to plant or just long for spring, Orchids on the Riverbanks offers every guest a colorful escape from winter when our gardens can grow dormant
,' said Andy Cabe, botanical garden director at Riverbanks Zoo and Garden. '
The exhibition is a splendid sight for everyone to see and enjoy
.'
The orchid show also features free programs and expert planting tips for the most seasoned of growers to the greenest of thumbs'scheduled for Saturday, February 12. At 11:00 am, Linda Thorne from Seagrove Orchids will present 'Growing Phalaenopsis.' The program will highlight the most popular group of orchids for growing in the home. At 12:00 pm, Carter & Holmes will present 'Growing Orchids for Beginners.' This program is a must-see for those just getting started. At 1pm, Tom Nasser of Carolina Orchids will lead a tour of the exhibit hall located inside the Magnolia Room of the Botanical Garden Visitors Center. The interactive tour is designed to expose participants to the wide variety of orchids that exist, as well as allowing time for questions regarding this spectacular species of flower.
Orchids on the Riverbanks is also perfectly timed for the Valentines weekend. Orchid vendors from across the Carolinas will be on hand with live plants for your favorite Valentine.
Festival hours are Friday, February 10 from 1:00 - 5:00 pm and Saturday, February 11 and Sunday, February 12 from 9:00 am - 5:00 pm. Admission to Orchids on the Riverbanks is free with paid admission to Riverbanks Zoo and Garden. To learn more about orchids, visit the American Orchid Society at
aos.org
.
For nearly 40 years, Riverbanks Zoo & Garden has connected individuals, families and groups with the world's wildlife and wild places. It is the mission of Riverbanks Zoo and Garden to foster appreciation and concern for all living things. Riverbanks is located at 500 Wildlife Parkway, Columbia, SC 29210. The Botanical Garden entrance is located at 1300 Botanical Parkway, West Columbia, SC 29169. The park is open daily from 9am to 5pm, except for Thanksgiving and Christmas day. Admission is $11.75 for adults, $9.25 for children ages 3 ' 12 and free for children 2 and under. Group rates and other discounts may apply. Year-round membership packages are also available. For more information, call Riverbanks at 803.779.8717, visit
riverbanks.org
or
facebook.com/riverbankszoo
.