Second Annual Italian Festival: One-Day Passport to Italy | November 7, 2009
Tuesday, November 3, 2009 8:17 AM by Mandi Engram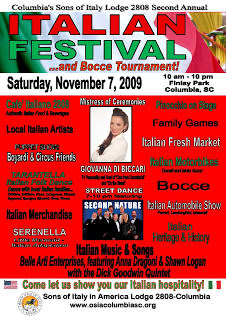 The Second Annual Italian Festival, presented by The Sons of Italy in America Lodge 2808-Columbia, will be held at
Finlay Park
on
Saturday, November 7, 2009
from
10:00 am to 10:00 pm
. Come and enjoy an exciting time in "Little Italy." There will be a Bocce Tournament, Italian Automobile and Motorcycle Show, Italian Music, Songs and Tarantella Dance, Italian Heritage, Authentic foods, desserts and merchandise, and of course, the evening will be topped off with a street dance featuring The Sensational Epics.
Admission and performances on site are free. Tickets are required for food, beverages and certain other items.
Hotels
Overnight Accommodations AT DISCOUNT RATES are only a click away! Through partnership with the following hotels in the downtown Columbia area, discounted room rates are being made available during the weekend of the 2009 Sons of Italy Italian Festival and Bocce Tournament for festival visitors, including members of any Sons of Italy lodge; and participating vendors. Dates that the discount applies include: Friday, November 6; Saturday, November 7 (day of festival); and Sunday, November 8. Simply click the hotel link of choice and you will be directed to the hotel's homepage to begin the registration process.
>
Courtyard by Marriott Downtown, 630 Assembly Street, Columbia, SC 29201
Located just down Assembly Street from Finlay Park and the festival, the Courtyard Columbia Downtown at USC offers 189 rooms including 16 suites for your comfort and convenience. Each room is spacious and combines comfort with functionality with high-speed Internet access included.
Click here
for special festival rates & reservation information.
$89
per night
SpringHill Suites by Marriott, 511 Lady Street, Columbia, SC 29201
Located in the Vista, just blocks from the festival, Springhill Suites by Marriott offers spacious studio suites, innovatively laid out, stylishly furnished and smartly designed. Complimentary continental Suite Seasons Breakfast buffet and complimentary on-site parking available.
Click here
for special rates and reservation information.
$89
per night
Columbia Marriott Hotel, 1200 Hampton Street, Columbia, SC 29201
The Columbia Marriott is located at the heart of the "
Famously Hot
" city just two blocks from Columbia's state capital & Finlay Park, site of the festival. The hotel features all of the modern amenities including wired and wireless high speed internet access, the City Center Grille restaurant, Garnet's Sport Bar, Star Bucks Cafe, a recently renovated concierge lounge and a heated indoor pool, with hot tub & sun deck. Complimentary airport shuttle is available.
Click here
for reservation information.
$99
per night
Staybridge Suites, 1913 Huger Street, Columbia, SC 29201
Located just 2 blocks from the festival,this newly constructed residential hotel offers spacious suite accommodations with kitchens and upscale features, including indoor pool and daily complimentary hot breakfast for guests. Children always stay free, and sleeper sofa beds in every room are perfect for kids and groups.
Click here
for reservations and special rates available for festival participants.
$99
per night
2009 Festival Events
10:00 am - 10:00 pm
Italian Music
Bocce Tournament
Café Italiano
Homemade Italian Desserts
Italian Label Wine & Beer
Italian Fresh Market
Italian Auto & Motorcycle Show
Belli Arti Enterprise:
presents favorite Italian songs
featuring Anna Dragoni
The Story of Pinocchio
Puppet Show - featuring:
Boyardi, the Italian Chef puppet
Children's Games:
Go Fish and Corn Bag Toss
Italian Adult Games:
Salami/Potato and Egg Crush
Italian History/Heritage Booth
Sons of Italy 2808-Columbia Info
& Italian Merchandise Booth
Lodge Member Artists Booths
Outside Vendor Booths
Evening Street Dance
with The Second Nature Band
Additional Information