Six Artistic Things to Do in Columbia SC
Sunday, May 12, 2013 8:00 AM by Renée Chow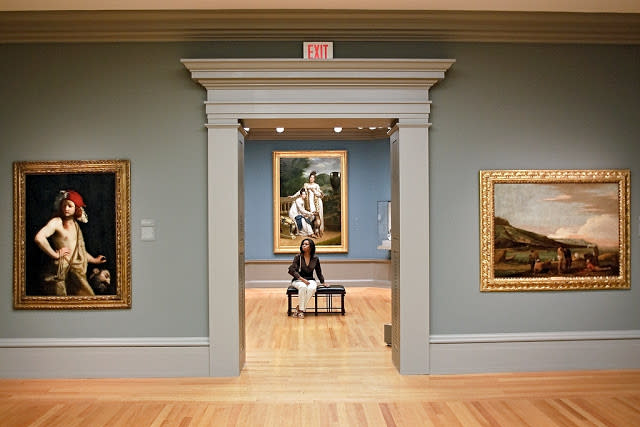 From arts organizations to theatre performances, Columbia, SC is full of ways to get in touch with your artistic side.

Columbia Museum of Art
Sundays are free every week at Columbia Museum of Art on downtown Columbia's historic Main Street. While ancient to contemporary art is on display in the museum's permanent collection, the CMA also features rotating exhibits, such as the current Picasso: Master Prints, Found in Translation: The Geometric Abstraction of Steven Naifeh opening May 18 and Annie Liebovitz: Pilgrimage coming in Fall 2013.
Public Art
Columbia, SC offers even more free options for the art enthusiast, with public art peppered throughout downtown Columbia. Take the
Columbia Metropolitan Convention Center's Self-Guided Art Tour
, featuring work from local artists inspired by Columbia's three rivers and brick masonry. You can then walk down to 
Vista Station
, where murals depict the trains that came through Vista Station in the 20th century. If you love the 
University of South Carolina Gamecocks
, then you will want your picture taken beside the large garnet and black rooster outside downtown Columbia's 
Mellow Mushroom Pizza
.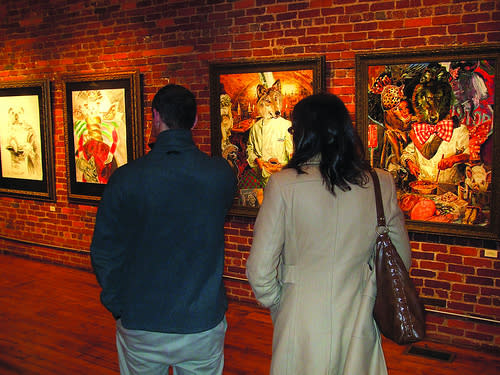 Photo courtesy of Congaree Vista Guild
Galleries
Find all types of art at one of Columbia, SC's many galleries and artist studios:  
City Art Gallery
, 
Carol Saunders Gallery
, 
The Gallery at DuPre
, 
Vista Studios/Gallery 80808
, 
Lewis + Clark
, 
if ART Gallery
, 
One Eared Cow Glass, Inc.
, and 
Art Studios in the Arcade
.
Cafe Art
You can enjoy a cup of coffee or a glass of wine while surrounded by art at one of Columbia, SC's cafes. Find art and drinks at 
Cool Beans
, 
Cafe Strudel
, 
Wine Down on Main
 and
The Gallery at Nonnah's
.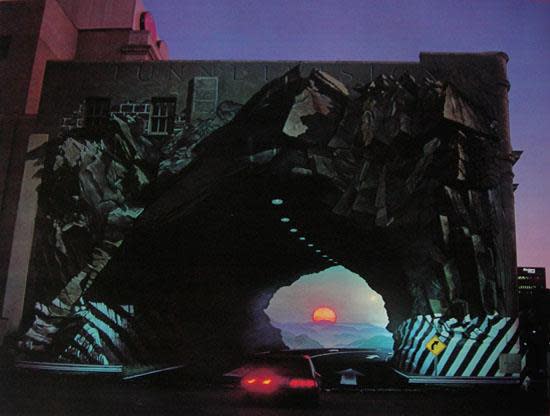 Blue Sky
For over 45 years, Blue Sky has been creating art and receiving international notoriety for his unique and imaginative works. His creations are among the most recognizable in the city. Find Blue Sky's works throughout Columbia, SC with:
Busted Plug, currently located near Taylor and Marion streets, is a four-stories tall hydrant.
Gervais Street Extension at South Carolina State Museum features an optical illusion.
Neverbust connects two historic buildings, the Sylvan Bros. Building and Kress Building, on Columbia's historic Main Street with a chain.
Other Side of the Tunnel, located on the Hampton Street side of the Ag First Building at Hampton and Marion Streets.
Tunnelvision, so realistic that drivers must give a double take at the realistic highway tunnel and sunset
Wallgrabbers, a freestanding wall mural at Crayton Middle School
Theatre and Performing Arts
Columbia, SC's arts scene is abundant with concerts, plays, performances and films. Try 
Bill's Music Shop and Pickin' Parlor
or 
Conundrum Music Hall
 for eclectic music performances. Enjoy a night at the theater with 
South Carolina Shakespeare Company
,
Harbison Theatre at Midlands Technical College
,
Town Theatre
,
Trustus Theatre
,
Village Square Theatre
 or
Workshop Theatre
. The dance performances of 
Columbia City Ballet
,
Columbia Classical Ballet
 and
Unbound
give the best in classical or contemporary dance. 
South Carolina Philharmonic
 never disappoints with its masterworks performances. And don't miss a movie at 
The Nickelodeon
 or its annual
Indie Grits Film Festival
.
To find more arts events in Columbia, SC, browse our 
calendar
 and
arts and entertainment
 things to do in Columbia, SC.