Sky High Safari Ropes Challenge Course Opens Today at Riverbanks Zoo
Monday, January 30, 2012 3:42 PM by Mandi Engram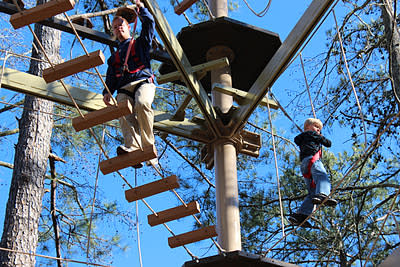 Ever wonder what it's like to hang around the trees like a siamang or see the world through the eyes of a giraffe? Brave explorers of all ages can now experience the Zoo from a much higher point of view with the all-new Sky-High Safari at Riverbanks Zoo and Garden.

Sky-High Safari is a 3-story (or 44-foot-tall) ropes challenge course that takes climbers along an adrenaline-pumping, heart-pounding adventure as they navigate through a series of more than 30 balance-testing obstacles, including rope ladders, bridges, nets and tight-rope >The cost to climb is $5 for Individual and Family-level members, $3 for Explorer, Patron and Gold-level members, and $7 for the general public with paid regular admission to Riverbanks Zoo and Garden. Admission to both the Zoo and Garden is $11.75 for adults, $9.25 for children ages 3 ' 12 and free for children 2 and under. Group rates and other discounts may apply. For more information, visit riverbanks.org.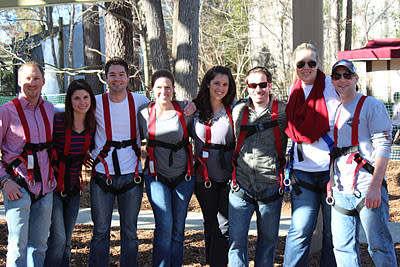 We had a blast climbing the ropes course yesterday and taking pictures around the park at the Zoo's media preview day with our friends from Greater Columbia Chamber of Commerce, Columbia Opportunity Resource (COR), Leadership Columbia, EngenuitySC, University of South Carolina's College of Hospitality, Retail and Sport Management, Post No Bills and Colonial Life Arena!

Check out more photos from the Sky High Safari on Facebook and Flickr.